Welcome to our Home
Usually here on FashionMumblr.com you'll see beauty, fashion and lifestyle content – but never a wider look at the surroundings where I spend most of my time. This post, is dedicated to those unsung heroes within our home that make the day to day a little bit easier or more enjoyable and yet they aren't talked about regularly, or even ever given the spotlight – until today!
The first home favourite, and probably most dramatic change to our living room since we moved in, is our new sofa! For almost 5 years, Charlie and I had an old brown (but very cosy, I must say!) sofa which we'd bought second hand, and it had always been our mission to upgrade it. We had quite a specific thing in mind with what would fit in well in our lounge, and for years we kept our eyes out for something that would meet our needs (big, comfortable, neutral colours, good quality, won't show up stains / small marks) and be within our budget too.
To be honest, neither of us ever really considered DFS. We almost dismissed it as being 'too obvious' and didn't think there would be one there that would meet our needs, but when we laid eyes upon the Morland 4 Seater Pillow back sofa we knew it would be perfect. We were able to choose from 6 colours to ensure it worked perfectly with the colour scheme in our room, choose from Pillow back fabric sofa or 'formal back', and even personalise right down to the texture of the feet.
It was about 6 weeks from the day we ordered right up to delivery, and the home delivery was totally fuss free – within an hour our living room had been transformed. I listed our old sofa on Gumtree the weekend before our delivery date, and it was snapped up just 5 minutes after we listed it, and taken away that very same day. DFS do offer a collection service of your old sofa, in collaboration with the British Heart Foundation, however they only collect on certain dates, and sadly we were abroad on the date closest to our delivery date!
Colour wise, it works perfectly in our lounge and the size is absolutely perfect too. I'm also incredibly impressed with the quality of the material and finishes, plus – it's received the ultimate seal of approval from Dexter, who just loves to sunbathe across the pillows on the back!
Home Fragrances
Now this is something that I have spoken about on the blog before, so I'll make it brief! Charlie and I both love to create a relaxing ambience in the home, both day and night, and to do this we love to fill the living spaces with scented reed diffusers and candles. I'm also not one of those people that likes candles in the home, but never lights them! There's nothing more relaxing than the soft glow of a candle and that gentle buzzing noise of the flickering flame.
Some of my favourites include the Next reed diffusers, I'm always very impressed by the value of these – the scents are on parr with the iconic designer home scents, but the price is far less. We still have the 'Winter Collection' diffuser on our mantle, and it's barely 1/3 used despite scenting our room for over 6 weeks now.
Other more luxurious favourites include Jo Malone and Diptyque of course, which really make a statement on any shelf, mantle or table, and also NEOM, whose 3 wick candle is affordable and gives off the most divine scent.
Our Bookshelf
Our house is not a showroom, so our bookshelves make it a home with all their personal touches. Charlie's rugby awards and my blogging award are proudly displayed, alongside books that represent both mine and Charlie's tastes. You'll find Vogue, Tim Walker and Dior Couture books crammed in alongside books about customer psychology (which I wrote my dissertation on) as well as Charlie's sportsman autobiographies and factual books. My old school yearbook is in there somewhere too, alongside the butterfly London Fashion Week invitation which I helped to design during my time working at Mulberry.
Photo albums, candles, succulents and even our Pet Cam are tucked away on our book case, it truly is a snapshot into our lives!
Our Radio
A simple new addition to our living room, but one that's made a real difference. Charlie and I now use our living room as our workspace, creating a mini office on our dining room table, and having the radio on in the background has become an essential element of our workspace. We chose the Goodmans Digital Radio from AO.com, opting for the luxurious Ivory finish and leather strap. It had been a while since I last bought a radio (in fact, the last one was my Roberts Radio which I got for my 18th birthday!) and boy have things changed since then! This new snazzy number is cordless so we can listen in the garden during the summer (but no need for batteries, you plug it into the wall to charge and can just leave it plugged in if you prefer) it also wirelessly plays from your phone and spotify through Bluetooth, has a full screen, clock, alarm and all the usual radio requirements too.
Playing our favourite radio station helps to create a relaxing and motivational atmosphere, and the style of our new radio fits so perfectly into the lounge.
Flowers Complete the Room!
Throughout this post (I photographed in two stages) there are two incredible bouquets of flowers, both from Bloomon. I like to arrange monthly deliveries of flowers as they truly create such a striking centrepiece in the living room, and I'm always really impressed with the bouquets I receive from Bloomon.
Not only do they make the room look and feel fresh and bright, but they make for perfect blog photography props too! The vase I received from my first order has come in incredibly handy for the giant floral arrangements too, and if you sign up for your first bouquet via this link, you'll receive a free vase too!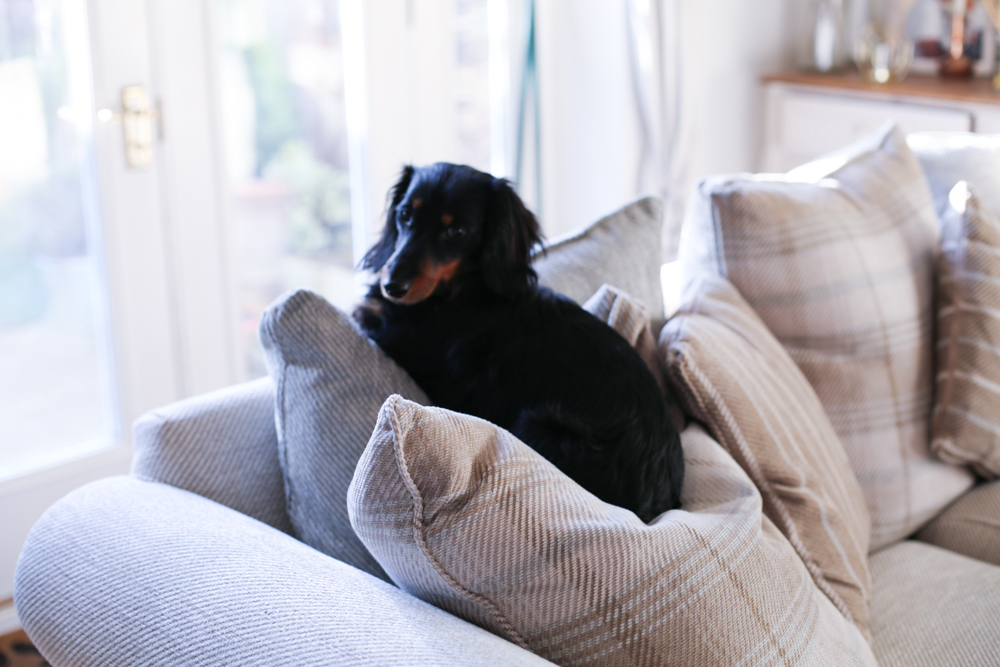 So there's a little sneak peak into my living room, and a few home favourites!
What pieces in your home are your favourites?
xoxo