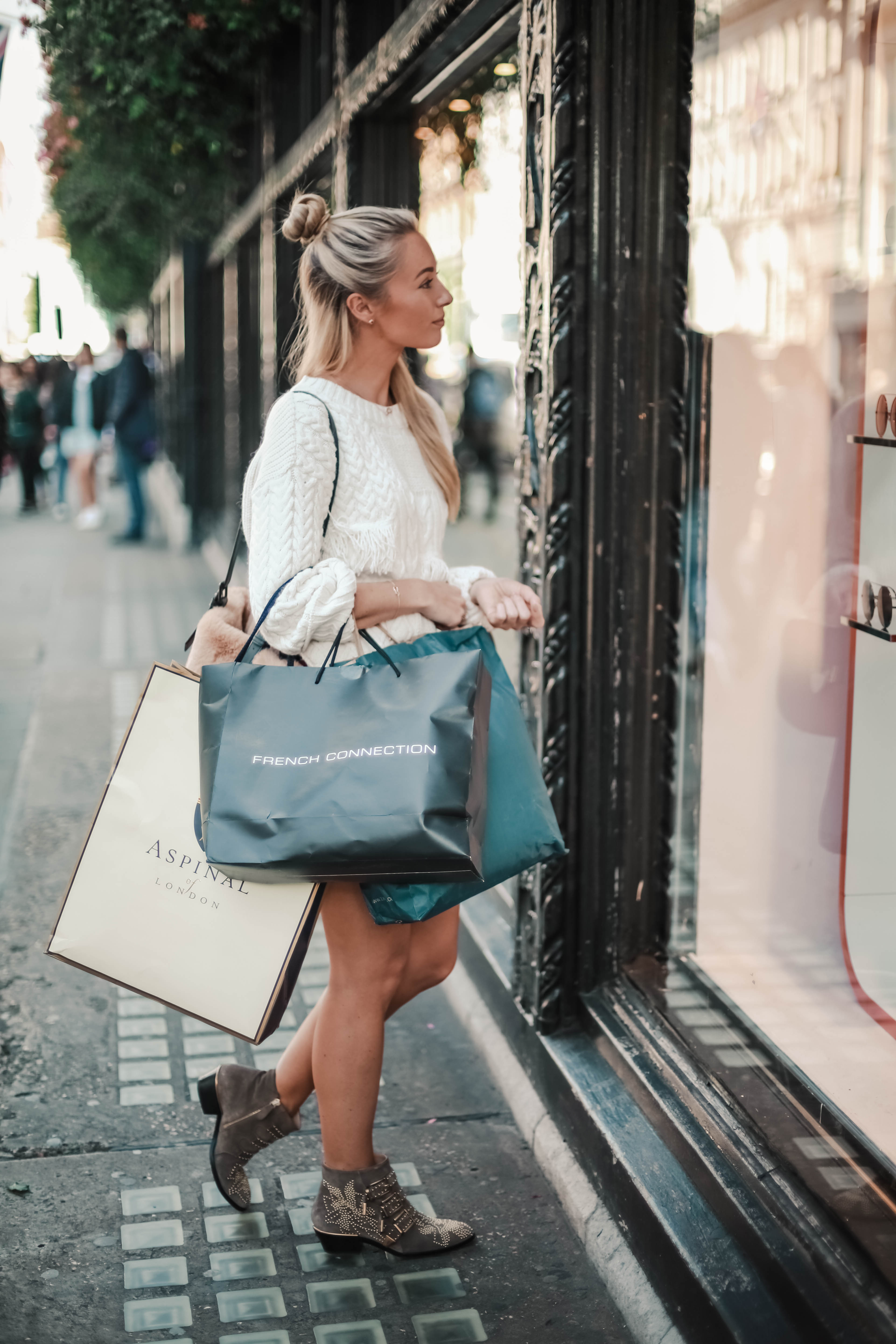 The Ultimate Shoppers Guide to Oxford Street
One of the topics I am most frequently asked about, both on the blog, across all my social media channels, and over on YouTube, is about London Shopping. It's no secret that I'm a shopaholic, and while most of the time I prefer to shop online, there's a certain thrill that comes with hitting up the flagship stores that we are so spoilt with here in London. Without doubt, the best place to head for a hardcore shopping session is Oxford Street, it's Europe's busiest shopping street with over a mile and a half of stores and in todays post I'm going to share my ultimate guide to the infamous shopping street!
Where To Go & How To Get There!
First of all, how to get there! There are four main tube stops on Oxford Street; Marble Arch, Bond Street, Oxford Circus, and Tottenham Court Road. I'd recommend getting off at Oxford Circus because then you are truly right in the middle of the shopping mecca! You'll emerge from the tube to a very busy cross road, and whether you turn left or right, you'll be surrounded by Flagship stores.
You'll most likely exit the tube and be instantly faced with the ginormous Topshop flagship stores; with three floors of affordable and on trends styles as well as regular DJ sessions, and other events such as a 'Live Catwalk' going on in store, it's definitely somewhere to check out. One of my favourite places to get affordable and very stylish homeware pieces is within the Home section of the H&M just a little further down Oxford Street toward Tottenham Court Road – there's marble coasters and copper crockery a-plenty!
Also along Oxford Street you'll find plenty of department stores, my favourite of which is Selfridges which really delivers the most incredible shopping experience! Be sure to visit the huge Beauty Hall on the ground floor and then make your way up to the street style fashion up on level 3.
Where to go for your R&R
I'll be honest, shopping is a tiring activity and while I am all about the 'Shop till you Drop' mentality, I like to make sure I'm hydrated, refuelled and well fed mid shopping trip. Branch out just a short walk away from Oxford Street into the buzzing SoHo area for a coffee break at the Café Nespresso. Located at 32 Broadwick Street, the café is the prefect place to not only enjoy a traditional coffee, but also enjoy a bite to eat too. Depending on the time of day you pop in, you could enjoy anything from a fresh fruit platter and a croissant for breakfast, to a scrumptious delicatessen platter of cured meats or a nutritious salad for lunch. I usually find myself in the cafe during the middle of the afternoon and depending on my cravings, I'll opt for a fresh baguette (they have a huge selection but my favourite is coronation chicken!) or perhaps one of their delicious cakes – I highly recommend the Pistachio cake or handmade macaroons!
As well as the scrumptious snacks, I usually find myself craving a caffeine hit mid shopping trip, so whether I decide to take a little break and sit inside the Café Nespresso or take one to go, as you'd imagine the coffee menu is very extensive! As fans of creating my own Nespresso coffees at home, I usually try to discover something different when I visit the Café, on my last visit I tried their After Eight Espresso, and a favourite on warm days is the Hazelnut Iced Macchiato. In fact, there are over 25 unique and unusual coffee combinations which are  created right before your eyes by the coffee Maestros! While there, you can also pick up more Nespresso capsules for your at home machine using the Nespresso Cube – an automated self-service robotic machine which prepares personalised capsule orders in just a few minutes!
Don't Miss These Streets…
Once energised, it's time to explore the streets just off Oxford Street. After visiting the Café Nespresso you can weave your way through SoHo to Carnaby Street, where you'll find even more boutiques ranging from British lifestyle brands such as Jack Wills, to the fitness & fashion flagship that is the new Sweaty Betty flagship (there's even a workout studio in the basement should you decide to burn off a few of those lunch calories!). At the top of Carnaby Street you'll find the famous department store; Liberty, and don't forget to get that all important photo outside the store's incredibly photogenic flower stall!
Regent Street is another unmissable shopping street, you can make your way there after visiting Liberty (it's just 30 seconds from there!) and here you'll discover even more incredible stores including designer flagships such as the huge Burberry store, as well as at least two Zara stores and a dedicated Zara home store, and premium high street stores such as Karen Millen, Ted Baker, Reiss, J Crew and more. At the bottom of Regent Street you'll find Piccadilly Circus – another must see if you're a new visitor to London!
It may sound overwhelming, and sure there are a LOT of places to visit and stores to discover but it's actually pretty easy find your way around and all the stores are packed closely together on just one or two streets (as opposed to shopping in New York for example where lots of the best stores are on the side streets!) so you won't miss out on any fabulous shops by sticking to the main streets.
I'd love to know if you've got any more tips for shopping on Oxford Street – do you have any favourite stores? Let me know in the comments below!
xoxo
What I Wore
Jumper by New Look
Skirt by Topshop
Boots by Chloe
Jewellery by Monica Vinader
Bag by Aspinal
This post has been created in collaboration with Nespresso