How To Master Festive Fashion
One of my favourite parts about going to festive parties is deciding on what to wear, and treating yourself to a new dress! The most perfect excuse to splurge on a festive holiday party dress to wow your friends, family and co-workers! It's fun to dress up, but finding the perfect holiday dress can be overwhelming with so many to choose from. It's important find a design that's best for your silhouette,and also consider the theme, venue and occasion for your festive gathering so you aren't over or under dressed. Here are some tips that I hope will help you find the perfect look this holiday season!
Dressing in sequins and bright colours is perfectly acceptable during the festive season, so go for the dazzling designs that you may not have opted for throughout the year but secretly lusted over. Consider the traditional festive Christmas colours of green and red, and don't forget – there's no such thing as too many sequins! This long dress from Topshop is a chic black number, but made fabulously festive with the dazzling embellishment which resembles peacock feathers. The zig-zag shaped hemline finishes just above the ankles; perfect to show off your favourite footwear. Thanks to the high neckline, you could opt for elegant yet understated earrings and a simple ring; and finish with a metallic clutch bag.
Shop The Sequin Look

Shop my Edit on Topshop.com Here.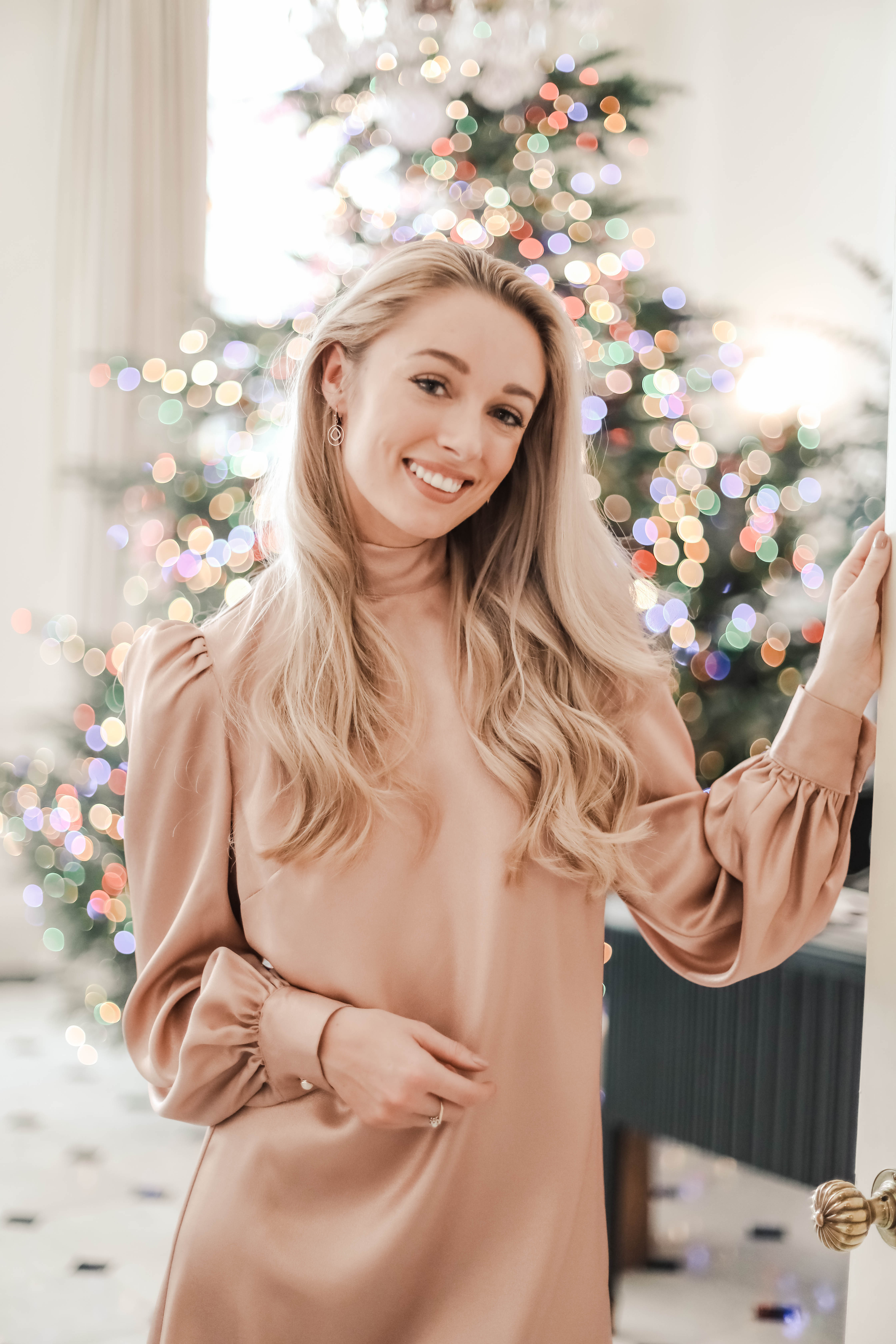 Stick with your Style
As much as the festive season is the perfect opportunity to push the limited when it comes to your #ootd, there are also some fabulous ways to give a nod to the festivities without disregarding your signature style. This season there are plenty of feminine options including pink metallic dresses for those of us with a girlie style, and my personal favourite is this pink 'foil' material high neck dress from Topshop. With Victorian style voluminous sleeves and a ribbon tie neckline, visually it creates a beautiful impact and the gold sheen of the foil material gives a subtle hint of festivity – after all, metallic count as a neutral during the festive season – while still ensuring the dress is versatile for future occasions.
It's a fairly short dress – for me at least! – so I admire the balance of the voluminous fabric detail on the top half, to balance out the slim silhouette of bare legs at the bottom half. Once again I paired with my favourite statement shoes and delicate classic accessories.
Shop Pink Partywear

Stick with the LBD
Perhaps the most versatile dress during the Christmas season is the festive take on the LBD. No matter the occasion, this type of dress is likely to be appropriate; whether it's a work function where you need to be able to work the room without feeling conscious of your outfit choice, or an evening partying with friends; this Topshop black dress works for them all. The black base colour, high waisted silhouette and wrap style bodice make the dress uber flattering, while the metallic star detail on the sheer fabric overlay are a simple and classic festive style. Sheer materials are one of the key trends this party season, and this dress ticks that box too!
Shop The Trend

Have you found your perfect Christmas Party dress yet?
xoxo
Thank you to Topshop for sponsoring this post!