HOW TO STYLE OTK BOOTS FOR AUTUMN WINTER?
So you want to know how to style and look after a pair of over-the-knee boots? This has by far been my biggest request since Autumn arrived; if you already follow me on Youtube or Instagram, you'll know that I have been wearing them non-stop recently, and for good reason too!
OTK boots are a versatile piece for your wardrobe, they can elevate the most simplest of outfits and if there is one thing you can rely on when the cold weather rolls around, it's that you'll be reaching for cosiness and style in the form of OTK boots. For some, the OTK boot is considered a little intimidating;  it could be easy to veer into Pretty Woman territory but year after year designers and the highstreet continue to produce them – and for good reason! Their timeless style, comfort and ability to totally elevate an outfit is something that we keep wanting more of each and every Autumn / Winter season.
Starting off with a fail safe pair, I find that I get the most use out of them when they are sporting a neutral colour such as black, beige, tan or grey. If you have a wardrobe similar to mine or if you just love neutrals you will fall head over heels for this beautiful suede pair from Karen Millen. Not only will they go with your entire wardrobe but they are practical due to the chunky low block heel. I wore these for a whole day shopping and didn't feel the need to sit down once. As they're an investment piece from Karen Millen and a lot of thought and care has gone into the craftsmanship, they have a good thick sole which means they won't look worn even after a couple of seasons of use as well as extra stability and support around the ankle, and a perfect-height heel for that extra height boost but still perfectly comfortable to wear all day long..
Experimenting with different styles of OTK boots I've found that there are so many different outfit combinations you can create. The key thing to remember when styling OTK boots is balance and proportions. For example, wear them with over sized jumper dresses which will balance out the silhouette – baggy on the top, streamlined on the bottom! This is a go-to combination for me since it's an outfit you don't have to think about but still looks great.
For those shopping days out or lunch with the girls, opt for a pair of OTK boots and a khaki corduroy skirt. By wearing a pair of OTK boots, it actually makes me feel more confident wearing shorter skirts as a little bit of skin is on show but not too much. They instantly make the outfit feel more fashion forward and slightly warmer (and sexier) than a classic knee-high boot. To tone down the boldness the boots convey, use layers such as an oversized jumper, a coat or a gilet like I have here to keep things casual.
If you are going somewhere which requires you to look slightly more demure and ladylike, opt for a pair of over-the-knee boots with a slightly longer hem line such as this pleated skirt. Not only does this help to elongate the body but it helps keep the look feminine and elegant.
If you want something a little bit different to all the neutrals, your in luck because this season OTK boots has since moved into more adventurous realms so don't be surprised to see bright red colours or patterned velvets cropping up on the shelves either.
What's great about this boot style is that both the highstreet and designers have adopted it which means there are so many beautiful pairs to suit all budgets. This pair from Brand Attic are only £32 yet still have a very high end look about them. Sporting faux suede and a thick lining means they will grip easier to your leg so you won't be pulling them up every 5 seconds. Of course if you are only going to spend £30 on a pair you can't expect them to last as long, but at that price they're a great every day boot.
On the higher end of the scale are these Stuart Weitzman all black over-the-knee boots. At around £700 they are a huge investment but one that I will never regret since purchasing a pair a few Winters ago and they still look brand new! The colour black means they will always have that timeless appeal to them and always be incredibly versatile. The slim block heel further distinguishes this stand out style and considering the heel height, they are surprisingly but incredibly comfortable. Due to the structure that has been put into the boot, there have never been any issues with stability either.
Shop My Favourite OTK Boots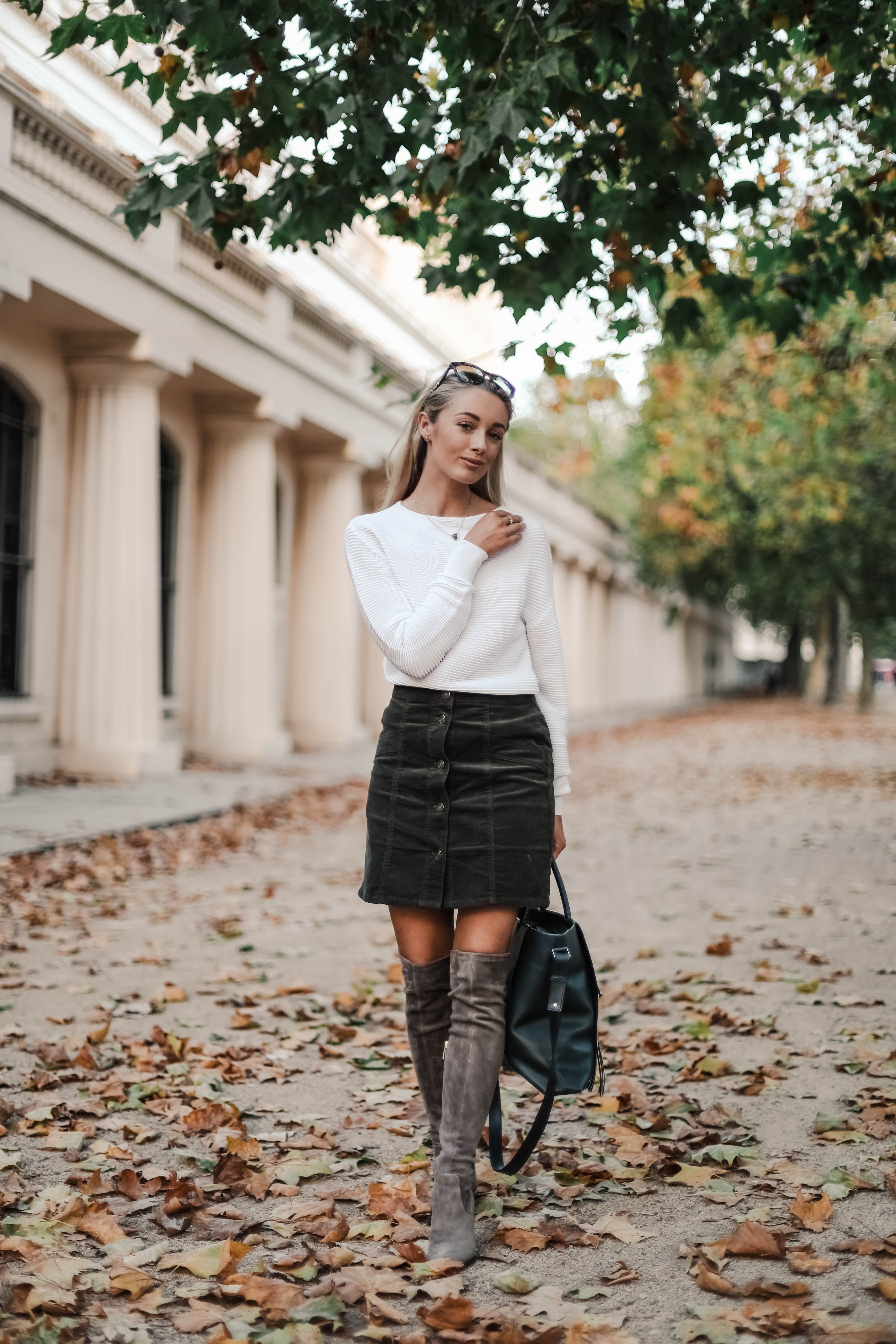 How to Care for your Boots?
After parting with your well earned cash, you'll want to take an enormous amount of care of your OTK boots. There is nothing worse than wearing your beloved boots for the first time and getting even the tiniest mark on them which is why it is vital you care for them the day that you buy them!
Depending on the fabrication of your boots, whether they are leather, suede or a synthetic, that will determine which kind of spray protectant you'll want to apply. Once you bring your new boots home, it's best to waterproof them with a treatment spray. A quality waterproof product like Liquid Proof  will help protect your boots from rain, snow, puddles and maybe even a spilled cocktail. Mist the boots all over as soon as you get them home and I will mist them again if it's looking like it's going to rain the day I want to wear them but most shoe repair places will recommend re-spraying your boots on a monthly basis.
If you have stored your boots away during the Summer months and have recently got them out of storage, you'll want to perk them up a little. I like to brush them over first to raise the fibres of the side (or faux suede) to get out any dust they've gathered to help the suede look fresh and new again.
To intensify the colour  to really make my OTK boots look brand new I will then use a coloured suede revival spray. Make sure you only do this with your black boots because you can't guarantee the colour will be exactly the same for your grey or tan ones. It helps to freshen up the colour of your boots and keeps them that vivid dark black colour. If you don't keep the colour topped up they could fade and go a dull grey which is when they start to look old and worn.
For any tougher marks or scuffs on the heels you will want a suede cleaning brush. Opt for one with wirey stiff bristles to get out any tough marks but be careful using this tool on faux suede as you could easily create marks with it.
Storing your cherished OTK boots can be more difficult depending on the amount of storage space you have. The most important thing you can do when it comes to storing your tall boots is helping them to keep their shape with boot shapers. Boot shapers are fairly inexpensive but they will just help to prevent any creases or wrinkles from forming in the material.
To see my favourite OTK boots in action and more styling tips check out my Top 5 over-the-knee boots Video. If you have any of your own tips on how to care for them let me know in the comments below!
What I Wore in Today's Post 

White Jumper by Reiss
Skirt by Marks & Spencers 
OTK boots by Karen Millen 
Bag by Ades 
Gilet by Reiss 
Necklace by Accessorize 
Earrings by Monica Vinader