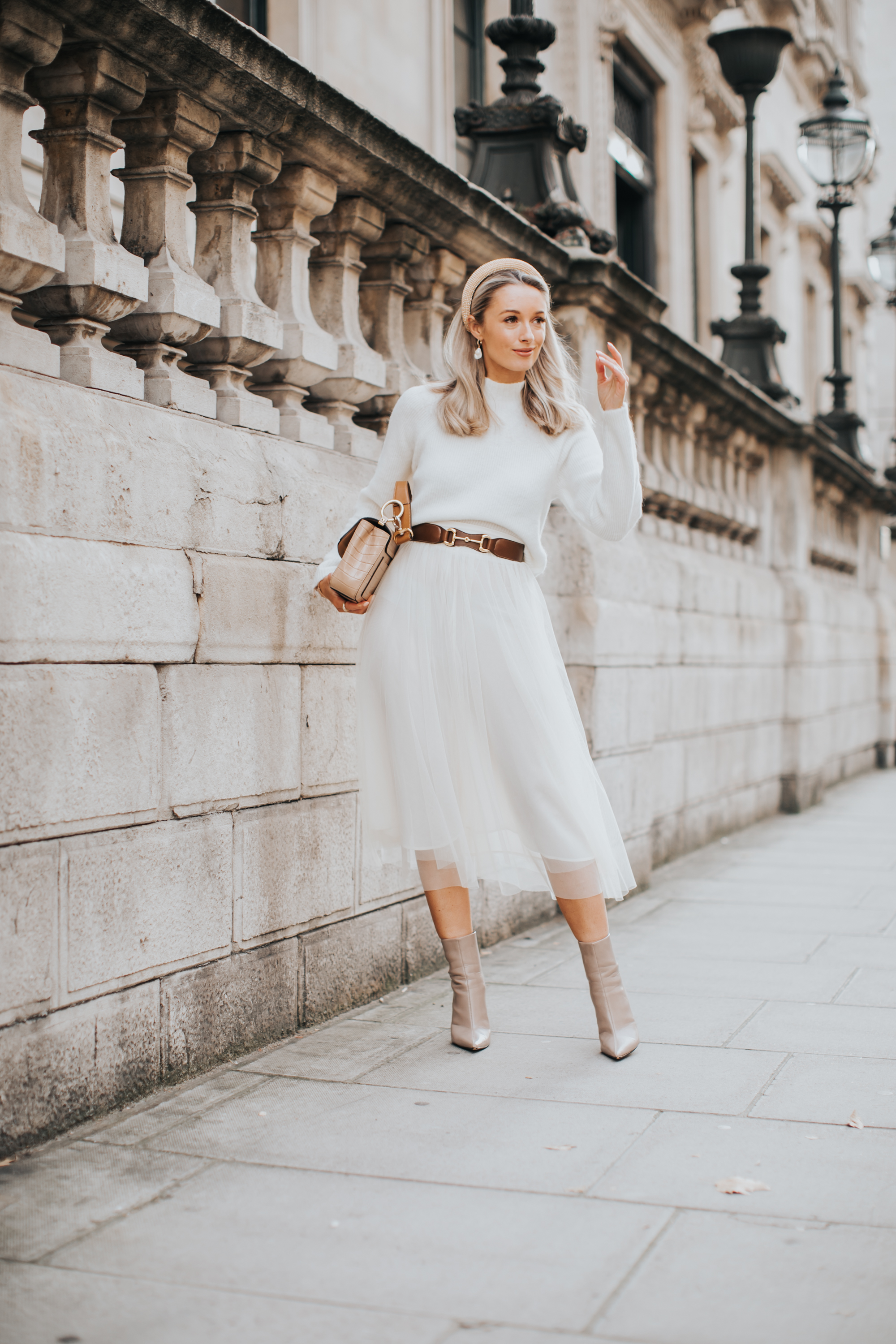 Jumper by & Other Stories // Skirt by & Other Stories // Belt by Gucci // Headband by Topshop //  Bag by Chloé // Earrings by & Other Stories // Boots by Topshop //
How To Wear Tulle this Winter
Darlings, the Fashion Mumblr Autumn Edit finalé went live on YouTube last night with a 10 Wearable Trends for Winter video, and I kicked off with my absolute favourite trend that's emerging for the upcoming season; Tulle. The dreamy, whimsical material that we saw on dresses and gowns on designers such as Valentino, Giambattista Valli and more on the catwalks, is now available to us mere mortals on the highstreet; and it's a trend I can't wait to wear. Well, who am I kidding, I'm already rocking it!
The great thing about Tulle is the unusual texture; making it perfect for wearing with a tonal look. You can wear head to toe of a flattering shade such as blush, beige or white, and add interest to your look with the addition of tulle. Tulle is a lightweight netting type of fabric, often seen on bridal designs, so if like me you have a romantic style; you'll be overjoyed about this trend.
I adore wearing the lightweight fabric in skirt form, and pair with chunky knits and ankle boots. It's lovely to break up a single coloured look, with a statement belt such as my new favourite from Gucci, and the great thing about tulle is that the highstreet already has some fabulous affordable options like this white tulle skirt from & Other Stories, or this dress that I'm obsessed with from H&M.
As the temperatures drop, I'll style tulle with thermals underneath, knee high or OTK boots, and a warm wool coat; how fun to have a fun, voluminous tulle skirt revealing itself from underneath? I think it would look wonderful with cosy teddy coats too and maybe a pair of statement tights; there's no such thing as too many textures!
How will you be wearing Tulle this Winter? xoxo
In My Tulle kit