10 Autumn Wedding Guest Dresses for Every Budget
It's a magical time of year for weddings; as the temperatures drop, the leaves turn from green to golden, and the days shorten which means longer evening parties and the opportunity to look to elegant and timeless outfits for seasonal celebrations. It can also be tricky to navigate looking fabulous, while keeping warmer too; so I look to longer sleeves midi length dresses and rich colours to give a nod to Autumn trends. Today I'm sharing some of my current favourite dresses for Autumn weddings, suitable for every budget!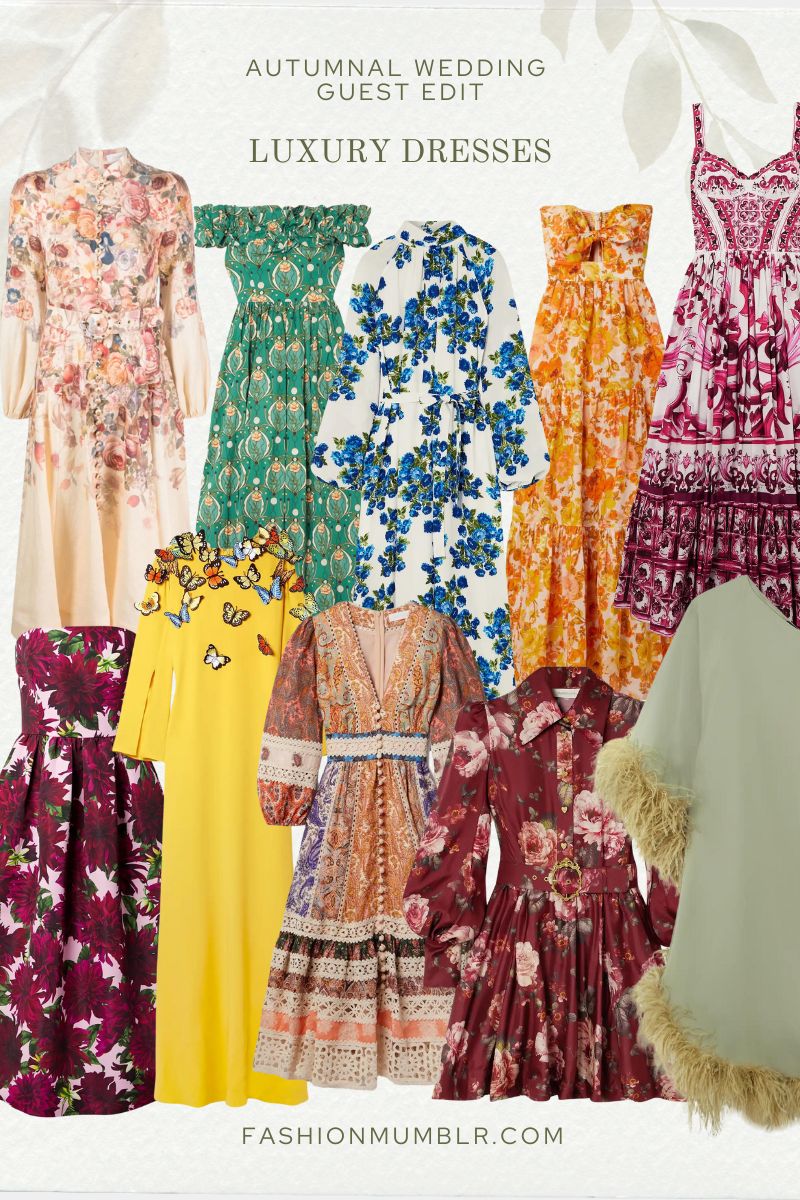 Luxury Wedding Guest Dresses
Here we have my top 10 autumnal wedding guest dresses. The dress that inspired this post is the gorgeous Luminosity floral-print midi dress by Zimmermann. As this dress has a high neck and long sleeves, it's perfectly suited to an event in cooler weather. You could even wear a cashmere base layer under this one if it's really chilly.
Another excellent choice would be this wonderful dahlia print Oscar de la Renta midi dress as the rich, warm colour of the dahlias is absolutely perfect for autumn!
If, like me, you love to wear browns at this time of year, you may be interested in this Zimmermann crochet-trimmed paisley linen midi dress. It's a very versatile dress as it can be dressed up for a wedding or dressed down a little for a dinner date.

Midrange Wedding Guest Dresses
If you're looking for a sleek silhouette, I'd recommend this stunning brown satin maxi dress which you can get from The Outnet, or this equally stunning green silk midi dress from Farfetch.
If however, you'd prefer something more whimsical, and perhaps floral, I have several options for you. Firstly, this wonderful Faithfull The Brand linen dress which you might have seen me wearing during a recent shoot. This puff-sleeve Ted Baker midaxi dress is another option if you love the look of the Faithfull dress.
One last midrange dress that I simply must share with you is this gorgeous one shoulder Reiss dress which would be perfect for an autumnal destination wedding – the style of the dress would be perfect for somewhere hot, but the rich colour leans more towards a late-summer /autumn colour palette.