Escaping The Smoke
It's Friday afternoon, you've clocked off from work and feeling a little exhausted from the hustle and bustle of the city. You've walked the local park so often that you practically consider yourself a landmark and crave some new surroundings – well, how about a day trip out of the city?
Not just for school children, day trips are actually far easier, quicker and much more fun than I previously envisaged, and this weekend Charlie and I boarded a Southeastern Train to Canterbury, to discover a new city away from the big smoke. Just under an hour from London St. Pancras, we were both surprised at how quick and easy it was to find ourselves in the serene historic town.
We arrived into Canterbury West just after 10am, and immediately beelined for the closest dog friendly cafe for some brunch – it turns out that most places in Canterbury are dog friendly, so it makes for a perfect day out for dog owners too! While enjoying the freshly made Sourdough Toast and locally produced organic breakfast, we planned our day ahead – quizzing the locals in the breakfast bar for their favourite hidden gems.
After finishing off our Cappuccinos, we were ready to explore.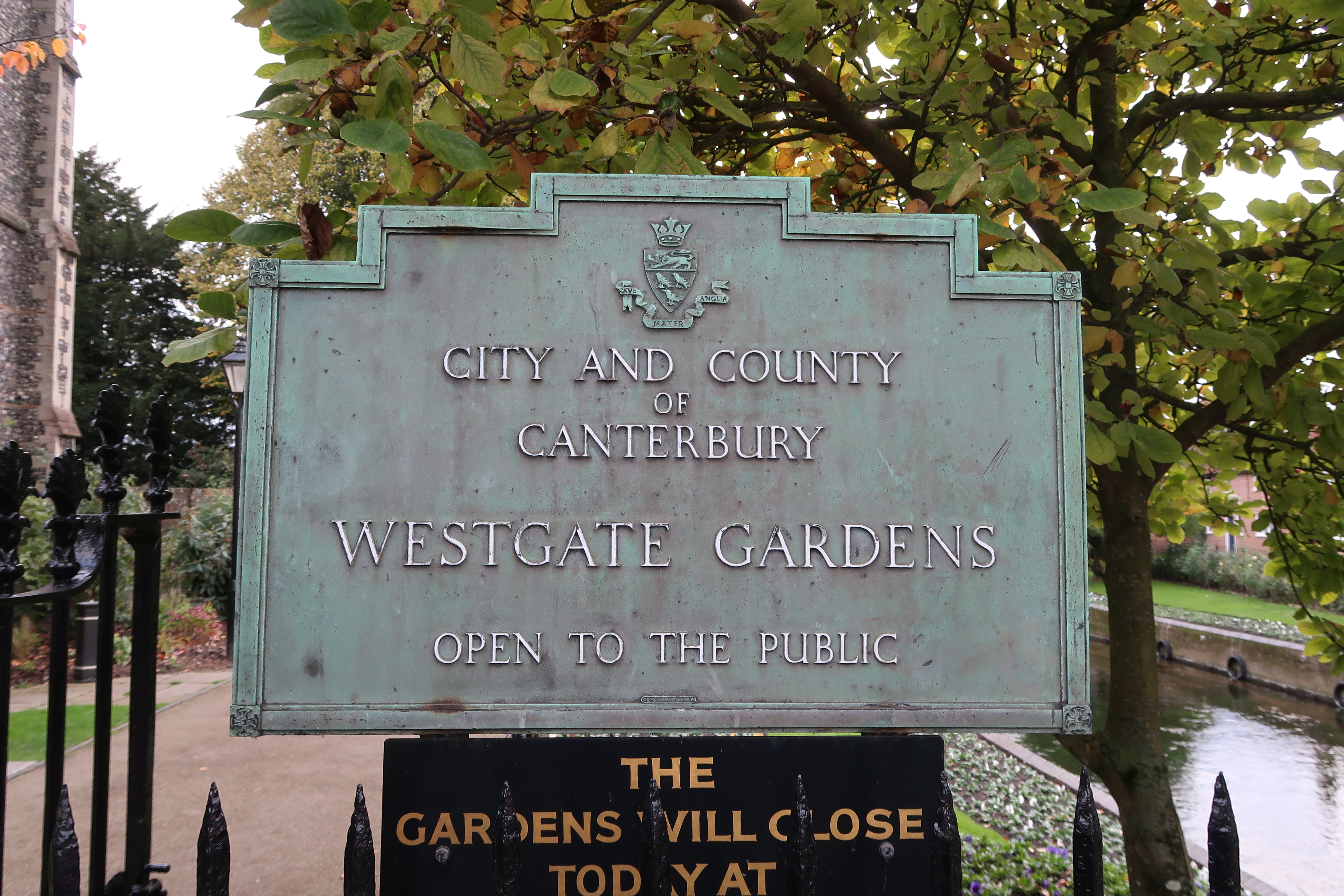 Emu Boots | Anthropologie Jeans | Joules Coat  |  Joules Jumper | Radley Bag 
Get  20% off everything from Joules until December 15th with code JOSIE20!
An Autumn Wonderland
Charlie and I used our favourite Tourist Tactic of using Instagram to find photogenic places, and found our way to Westgate Gardens. The historic castle ruins were sprinkled with golden Autumn leaves and made for the perfect backdrop for a quick #ootd!
Both Charlie and I dressed practically; I paired comfy jeans and a warm wool coat with waterproof boots – a  stylish and yet practical outfit for exploring a new place.
Fortunately the main part of the town is just a short walk from the train station, so after allowing Dexter to charge around the beautiful gardens for half an hour or so, we made our way into the town. The quaint and historic town centre remained true to its historic past – even the Debenhams store had rustic wooden signage as opposed to the brash branding that you'd see on Oxford Street!
We meandered our way through the narrow cobbled streets before discovering Canterbury Castle, and the Medieval Town Walls. The Gothic-style Cathedral was a hotspot for visitors, right in the heart of the city, but Charlie and I wondered off the beaten track to discover some of the city's hidden gems.
We stumbled upon a shabby chic restaurant; Oscar & Bentley's, where we settled in for lunch – Charlie and I both opted for some Autumnal comfort food to fill us up ready for more exploring that afternoon. I enjoyed a Butternut Squash risotto while Charlie couldn't resist the British classic – Beer Battered Fish & Chips!
We walked off the carbs exploring more of the city's side streets – making our way down the King's Mile, and even discovering a wonky house that Chaucer wrote about in The Canterbury Tales. After a few more hours of exploring, it was clear that Dexter was getting tired (his legs are only tiny after all!) so we checked the train times and slowly made our way back to the station.
We arrived in plenty of time, so decided to have one last look around before making our way inside. It was during this last minute exploration that we discovered a real hidden gem; the Farmer's Market Barn.
From the outside, the barn was totally unassuming. Very little signage, we were only drawn in by a handwritten sign on the gate. It was clear from the buzzing atmosphere inside though that although it was hidden, the Farmer's Barn was most definitely a local gem. Filled with fresh organic produce – a local butchers stall, bakery, organic coffee stall and much more, it was the place that foodies dream of stumbling upon. Charlie and I picked up some vegetables for our Sunday roast, coffees and some charcuterie to snack on during our journey home, and then made our way back to the station – thrilled with our last minute discovery.
In just an hour, we were back in London, with plenty of time to get ourselves ready for the fireworks that evening. Now that we know just how easy it is to escape the city for the day, our list of places to discover has quadrupled – and with Southeastern trains our journey was quick, enjoyable and hassle free.
Have you discovered any hidden gems recently? Is Canterbury somewhere you've visited?
Let me know in the comments below!
xoxo
This post is in collaboration with South Eastern Trains
Coat & Jumper by Joules Clothing – get 20% off everything on sight until December 15th with code JOSIE20