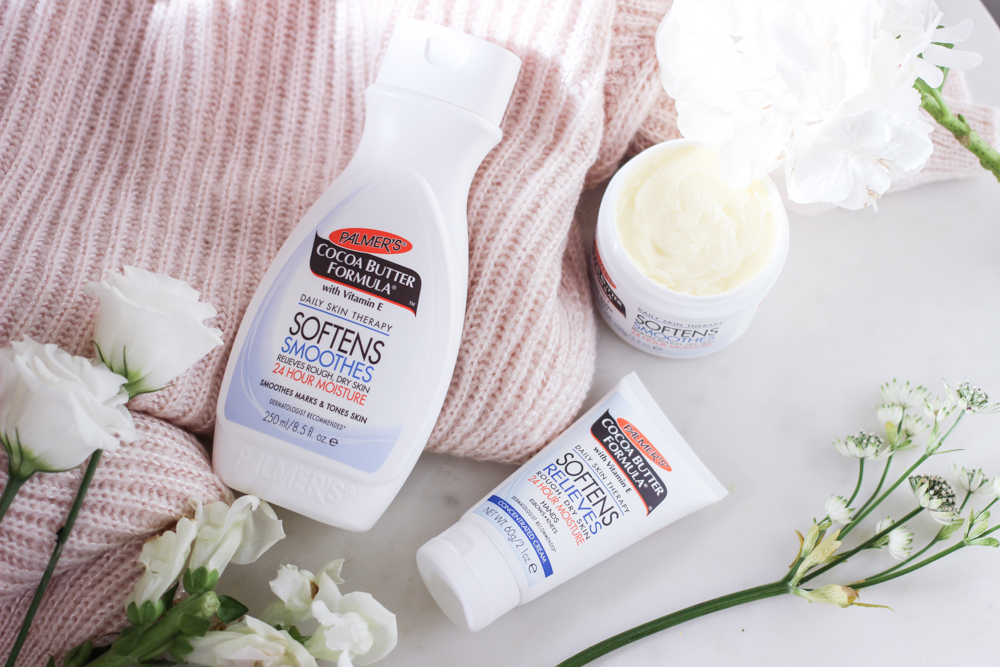 A Rich History
I like to think of myself as a moisturiser connoisseur! From sumptuous body butters, to facial oils and lip balms, I love nothing more than ensuring every inch of my skin is hydrated and nourished. As we move into the cold-weather months, this obsession turns into a necessity, otherwise I'm at risk of my complexion turning dry and dull within moments of stepping outside.
Over the years, I have tried a lot of body moisturisers – I've tried high end ones, budget ones, ones that tan me, ones that firm, and while my facial moisturiser changes every few months, my body moisturiser remains the same.
If you've read my blog or watched my YouTube channel for a little while now, you'll now that I'm a true addict of the Palmer's Cocoa Butter Formula.
I grew up in the countryside where a bottle of the original formula was stocked in our bathroom cupboard, I religiously slathered on the buttery smooth lotion every evening after my bath or shower and the smell almost became my comfort blanket.
Many years later, while many body lotions have come in and out of my routine, I still find myself coming back to the Palmer's Cocoa Butter Formula and solid formula, and here's why.
Firstly, I adore how it feels on my skin. The buttery formula is a delight to apply thanks to the smooth formula and delightful fragrance, but my skin looks and feels nourished for hours after application. Palmers are part of the World Cocoa Foundation, supporting cocoa farmers and fair trading, and the cocoa beans are ethically sourced from Ghana, where the finest cocoa beans in the world are found. They are rich in antioxidants including Vitamin E which has so many health benefits, and most noticeably it helps to improve skin tone, elasticity and even reduce the appearance of scars and stretch marks.
What's Not To Love?
I love that I can pick it up in my local Boots or Superdrug, or even in the supermarket, and despite it being the best body lotion I've tried, it's also the most affordable.
I use it all year round and the creamy formula makes every day application a pampering experience, it comes with me on holiday, and it's also a favourite of Charlie's too – he is also hooked on the scent and swears he can't get to sleep unless he has slathered himself in the lotion! For him it's great as the Vitamin E also helps his rugby scars – but I think he secretly just loves to pamper with it too!
I truly don't have a negative word to say against the entire Cocoa Butter range – also photographed is the smaller tub, the concentrated solid cream formula, which I take with me on holidays and I often scoop out a small amount and put in a little Muji pot when on long plane journeys – smoothing it over my skin to prevent the plane air from drying it out.
The hand cream is a handbag essential, but I even apply it to my arms, shoulders and legs while out and about too – whenever I need a hit of moisturisation.
The formulas of all the products are easily absorbed, leave skin looking and feeling soft and healthy, and keep me moisturised all day or night – I'm sure you've tried Palmer's Cocoa Butter Formula before, but if not, add one to your basket next time you're out shopping – you won't regret it!
Suitable for even sensitive and eczema prone skin, this winter, why not try out the Palmer's Solid Formula for extra hydration?
I'd love to know if you're equally as hooked on the Palmer's Cocoa Butter range – do you have a favourite?
Let me know in the comments below! xoxo
This post is in collaboration with Palmer's but all opinions are of course my own x