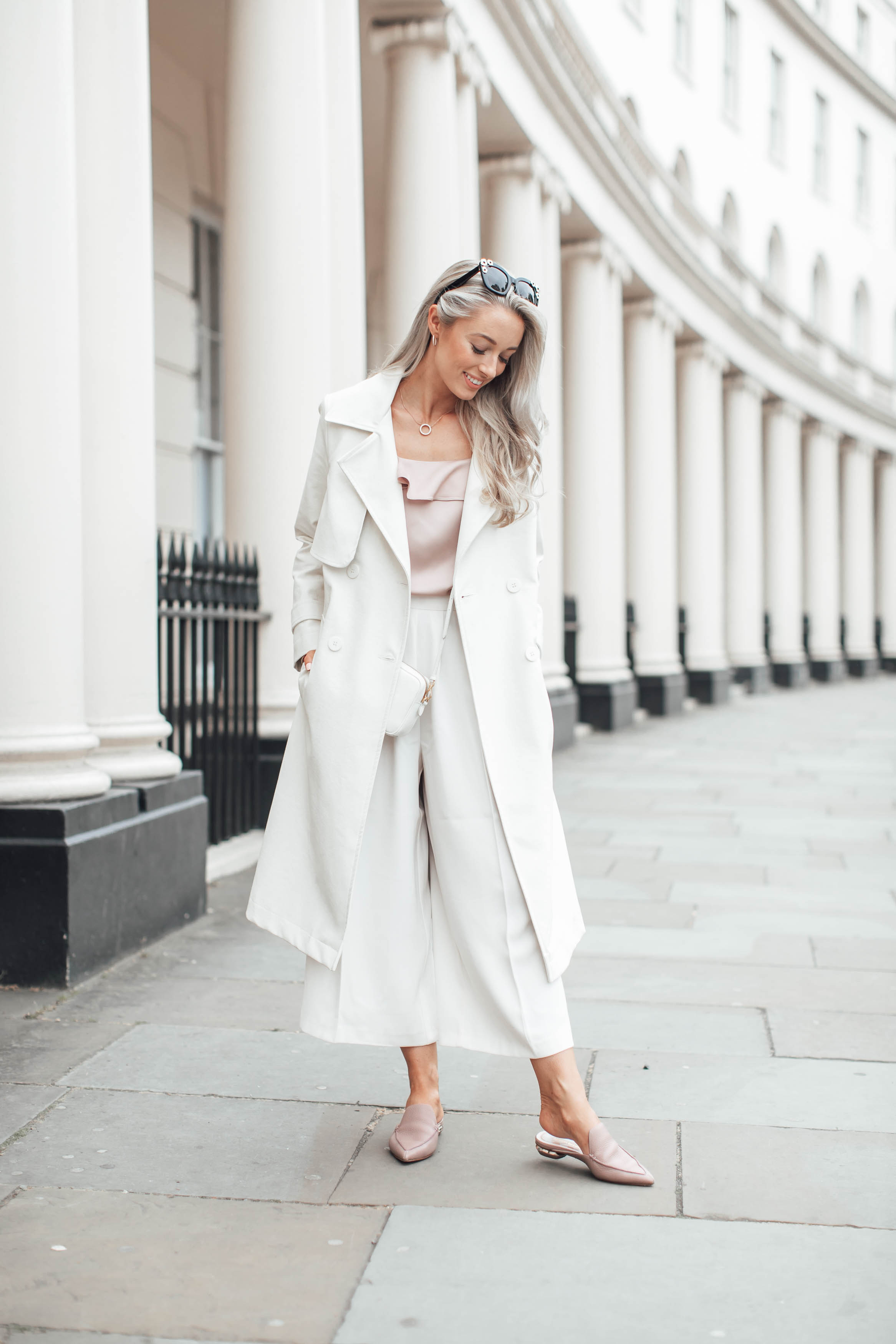 I bet you never knew you needed a faux leather coat – am I right?!
Well, I never knew it either, and to be honest I added this £89 outerwear to my basket on a bit of a whim, but now that it's in my wardrobe, I don't know what I ever did without it. Spring in the UK is a funny time of year, bright sunny mornings can often be chilly, and you never know when the temperatures are suddenly going to drop, so a Spring Summer coat that fits in with your wardrobe is something you'll find yourself reaching for time and time again.
It can be tricky choosing outerwear at this time of year as there aren't too many options in the stores, but this beauty fits seamlessly with the colours and textures that I plan to wear this season. Lighter coloured outwear can have its down sides; with dirty marks and stains being a big one, but the great thing about this faux leather material is that it's practically wipe clean!
The trench-like structure of this coat makes it classic in design, while the texture makes it more statement, the neutral tone makes it easy to choose your outfit underneath.

How to Style A Faux Leather Jacket
It's surprising how many outfits a faux leather jacket works with. Here I wore over what could certainly be described as a classic spring look; I opted for a beautiful silky camisole top with delicate frill detail across the chest, and a pair of surprisingly affordable tailored soft pink culottes. These £35 trousers are another piece that works with so many outfits, I've styled them with a variety of blouses, and on cooler days they also look fabulous with a chunky knit.
The length of the coat is surprisingly flattering, so these Nicholas Kirkwood flat shoes make for a practical way to accessorise the look, along with a cross body Prada bag to make a subtle statement.
The finishing touches to this look includes my classic jewellery; a pair of Pandora earrings and matching necklace, as well as Pandora bracelets too. I wore my Omega watch (isn't it dreamy!) and Kate Spade sunglasses to complete the look.
Would you ever wear a faux leather jacket? What do you think to this look?
xoxo