Istanbul is a thriving, bustling and beautiful city, spread across two continents, it's one of the most captivating cities I've visited in Europe. The call to prayer echoes across the glowing streets during the morning golden hour, as the street vendors jostle to open their stalls close to the Grand Bazaar before the tourists flock to the grand Mosques. If you want to make the most of a trip to Istanbul when it comes to visiting the most iconic spots, and getting those all important shots for Instagram, then bookmark this blog post!
I'd recommend starting your day at Sultanhammet; Istanbul's historic quarter. The area is home to most of the tourist hot spots, and being the 'old town' it's also generally the most photogenic area with the oldest buildings, winding streets and traditional architecture. In this area, you'll find the famous Blue Mosque (don't forget a pashmina to cover your head, and dress modestly – but don't worry if you forget because you can borrow garments to cover up for free), the beautiful Hagia Sofia, the Topkapi Palace, Basilica Cistern and the Grand Bazaar. We took an uber from our hotel to this square at around 8.30am where we started our snapping for the day! (Uber is very affordable and reliable – it cost us around 30 Turkish Lira which is currently less than £5 to travel 25 minutes)
If you take your Instagram snaps seriously, then head here early to avoid being totally swamped by other tourists. When we visited in early October, it wasn't as busy as it can get during the peak Summer months so if you go during a busy time of year you might want to head there as early as 7am, before the coach groups and cruises drop off their masses!!
Cashmere jumper by ASOS // Skirt by Reiss // Shoes by Reiss // Bag by Mango // Bracelets by PANDORA // Rings by PANDORA // Earrings by PANDORA // Sunglasses by Valentino //
These snaps were taken outside the Blue Mosque – while you're allowed to take photos inside, it didn't feel right to me as the Mosque is active as well as being a tourist site. Inside the Sultan Ahmed (Blue Mosque) the blue tile interior is quite spectacular, and the dramatic architecture and 6 minarets are incredible. My outfit was suitable to enter with the addition of a head scarf – be sure to cover up and dress appropriately.
The first images in this blog post were taken on the walk from the Blue Mosque to the Hagia Sofia – you can't miss this second Mosque, just as beautiful as the Blue Mosque – it's a UNESCO World Heritage Site and you'll notice both Christian and Islamic architecture inside. Chances are, there will be some construction, but the beautiful domes, tiles and murals will still be spectacular.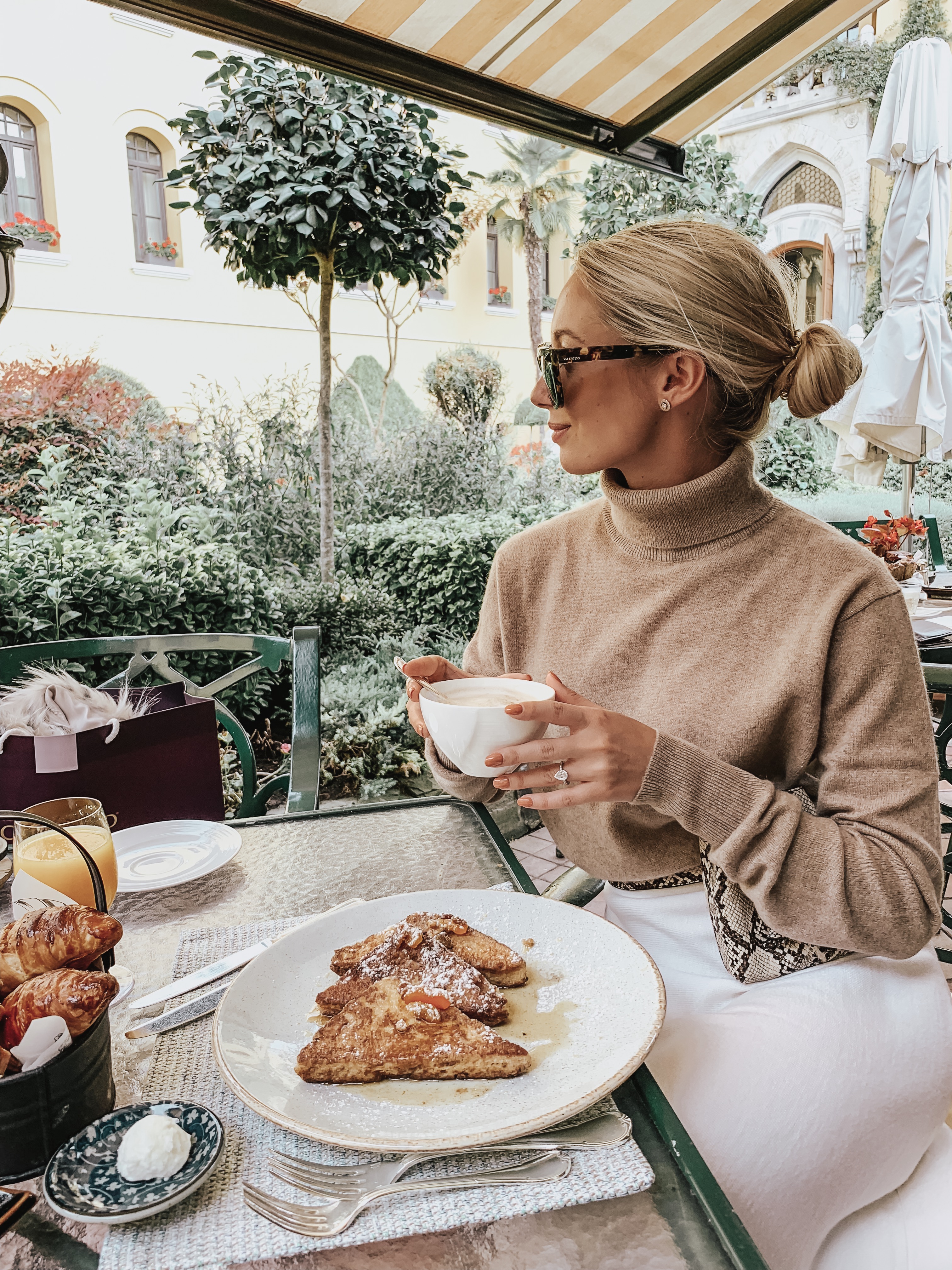 As we left our hotel so early, we were hungry for breakfast at around 9.30, so we walked the short distance from the Mosques to the Four Seasons hotel, where we enjoyed a scrumptious breakfast in their courtyard before heading up to one of their terraces to get a better view of the Mosques. (Yes, I changed outfits here!)
Shirt by Topshop // Trousers by & Other Stories // Bag by Chloe // Sunglasses, Jewellery & Shoes as before.
From here we walked to The Grand Bazaar, which is a huge indoor complex with local vendors selling everything you could wish for, from pottery and shish pipes, to carpets, lanterns and leather goods. Be warned – there's a lot of fake designer products here, and yes, they look real but it's just not worth it – not only is this damaging to the fashion industry but also the funds from purchasing fake designer goods often goes toward black market and illegal organisations. Don't do it! For authentic goods and souvenirs, be sure to haggle! This is a popular tourist spot so many vendors will be trying to rip you off!
A short cab ride away is Istanbul's Soho House. If you're a member, head here for lunch and enjoy what is sure to be the most beautiful Soho House property – housed in a historical building which used to be home to the American Embassy. If you've visited the bustling Greek Street, Dean Street or White City Soho House, you'll be pleased to hear that there are absolutely no crowds in the Istanbul Soho House! In fact, as you can see from the pictures (which is very naughty of me as photos are not allowed in the houses!) it was practically empty, in fact only one other group was in the room while we enjoyed our delicious lunch. I'd also highly recommend the Lebanese restaurant in the house too, we ate there on our final evening in Istanbul – scrumptious!
If you're not a member, unfortunately access into the main house is not allowed, but the Cecconi's restaurant and The Allis cafe next door are part of the same group, and are also rather beautiful.
Apologies if these iPhone photos aren't as high quality as my usual snaps – but the Salt Galata (above) was an impromptu visit after we discovered it via the Soho House Istanbul's Instagram! The Galata is housed in a magnificent 1892 bank building, and is now an exhibition space, arts research library and cafe. It's free to enter, so worth popping in to admire the beautiful architecture!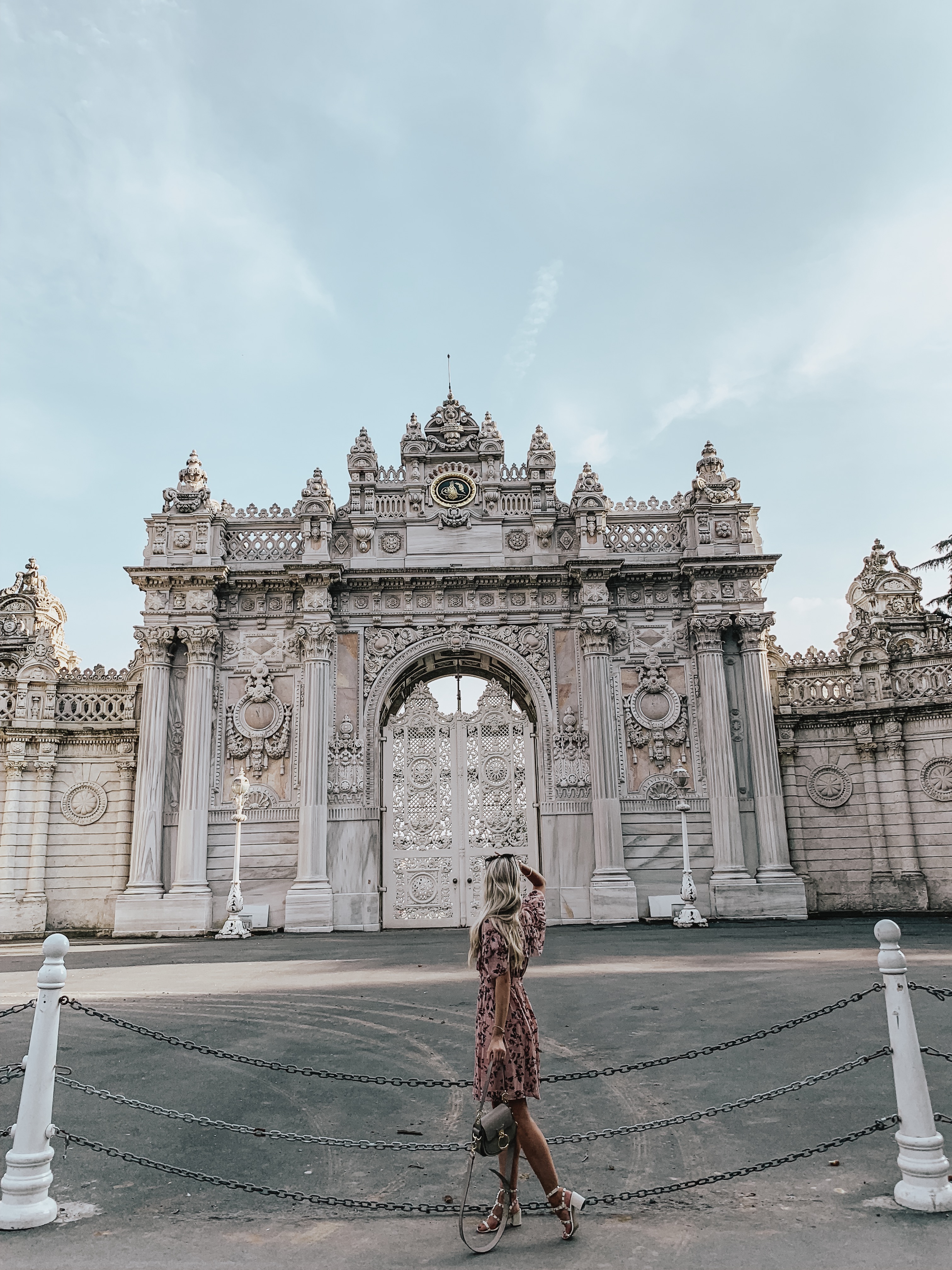 Further from the Old Town, but well worth a trip is the Dolmabahçe Palace. In the Besiktas district of Istanbul, it was built in the 19th Century and is a gorgeous white imposing building facing the water. When you visit, be sure to check the opening times, which we didn't – doh! We arrived at 4pm hoping for some beautiful Golden Hour shots, but sadly it was just closing and they wouldn't let us in!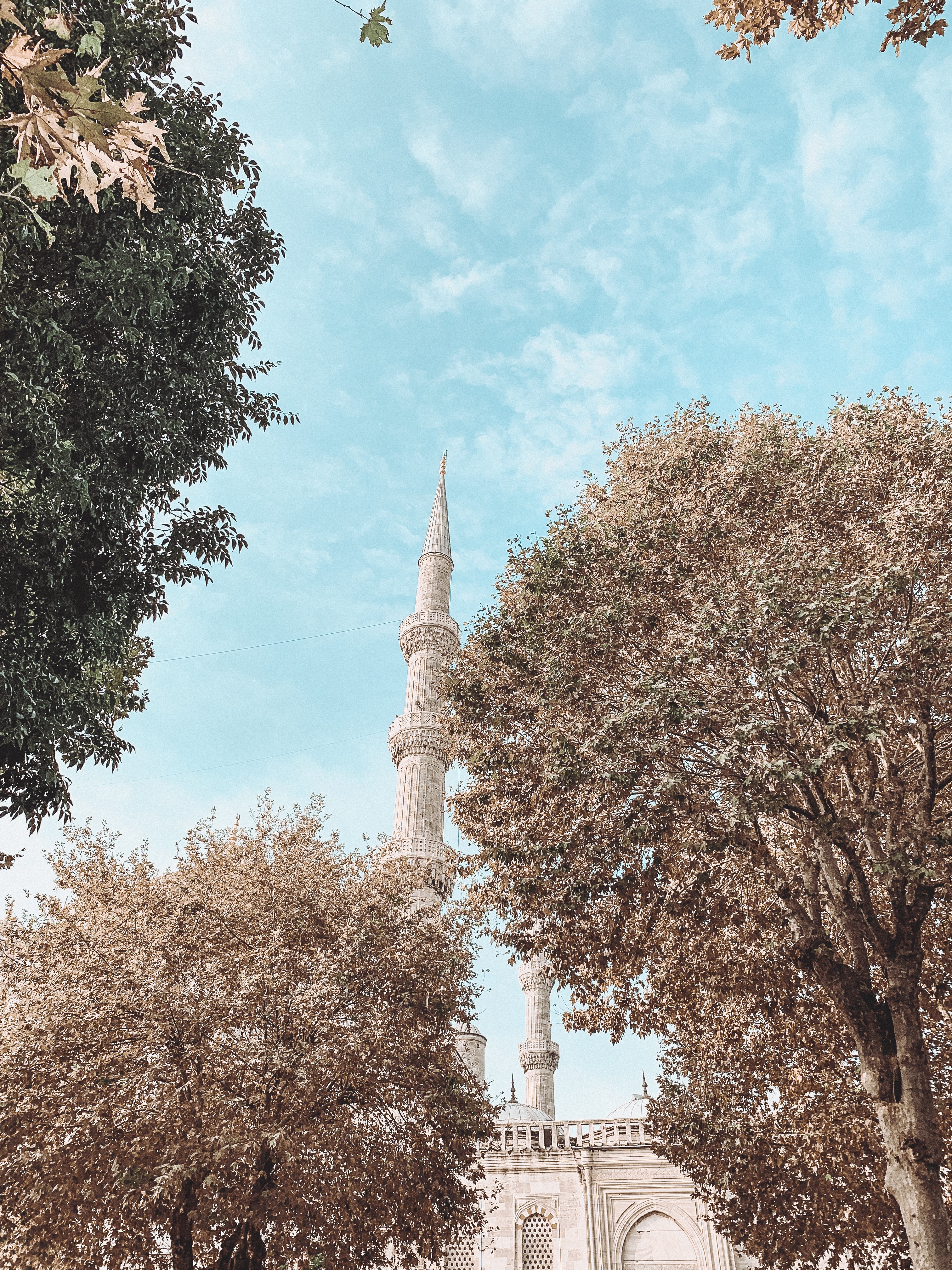 At the end of the day, for us it was back to our hotel; the Conrad Istanbul. Our wonderful suite had incredible views overlooking the city (the perfect spot to enjoy Afternoon Tea!) and the Summit Bar is a fantastic spot to enjoy a cocktail during sunset. The above two snaps were also taken during an Art Tour organised by the hotel, where our guide took us to a couple of contemporary art galleries around the city, as well as through Taksim; a busy shopping area in Iskatal. There are plenty of beautiful arcades like the one above, souvenir shops, bars and restaurants, as well as all the infamous Kebab outlets!
Room with a view!
Thank you to Conrad Istanbul for hosting us during our stay.