It's no secret that I'm a little bit obsessed with the South of France, a few of my favourite places include Ville-Franche, Grimaud, St Tropez and Cap Ferrat, and now I have another favourite; Monaco. Often viewed as an unofficial Province of France, Monaco is of course actually its own country, on the coast of the beautiful azure sea near the French-Italian border. The tiny territory is mostly known for the city of Monte Carlo, but this small province has so much to offer a curious traveller.
We visited in early October, planning a busy itinerary just in case the weather wasn't on our side, but luckily we left the clouds and the rain back in the UK, and enjoyed three days of glorious Autumn sunshine. We flew into Nice, and then took a 10 minute helicopter to Monaco – I know, I know, it sounds totally 'extra' but it's not as expensive as you might think, so quick and easy, and let's be honest, you feel like a total rockstar arriving by helicopter!
A Warm Welcome
Our home during our stay was Hotel Hermitage. It's an absolute favourite of mine, and this trip was my third time staying at The Hermitage. The luxury hotel is perfectly positioned. Right in the heart of Monte Carlo, you can step outside your door and be just steps away from the marina, Casino square, the Casino De Monte Carlo, Cafe De Paris and more. Breakfast is enjoyed in one of the grand atriums, and we were able to enjoy the morning sunshine with our coffee and croissants on their outdoor terrace which was the perfect start to the day, and there's also a Michelin starred restaurant; VistaMar, a more casual lunch and afternoon tea restaurant, Le Limun, and a sleek cocktail bar; the Crystal Bar where you can enjoy a pre-dinner drink.
One of my favourite places at the hotel though, pictured in the top image of the three above, is their lovely terrace. Overlooking the marina, you can enjoy lunch here or just a coffee – it has a wonderfully relaxed atmosphere, beautiful views, and it's the perfect spot to spend the afternoon.
Our room of course was fabulous; a chic pastel blue tone with vintage style interiors including a dressing table and Parisian style chair – the perfect place to enjoy your morning coffee! Our balcony was also a highlight, with spectacular views over the Marina!
After settling in, we made our way down to the Crystal Bar within the hotel for a cocktail, before our first evening meal which was at Mayajah – Charlie and I enjoyed a scrumptious Indian meal, in stylish surroundings. Charlie will be covering the food more on his blog within the 'Hungry Man About Town' section, but let me tell you – if you're a fan of Indian food, it doesn't get much better than this!!
The next day, we left the hotel early to explore Monte Carlo by foot; there's plenty to see, from designer stores, incredible coastal views, the marina, the supercars zipping through the streets, and some very interesting people watching! We walked a section of the Grand Prix race circuit, from the infamous hair pin bend, through the Louis II tunnel, and along the water's edge. We also visited the Casino De Monte Carlo – and what a spectacular building it is! You can admire the grand atrium for free, or pick up a radio tour guide to discover the historic building (and history of the casino and how gambling came to be so popular in Monaco) for a very affordable price.
After a coffee stop off at the infamous Cafe de Paris (expensive, but delicious!!) we continued our walk around the beautiful area, ooh-ing and aaah-ing over the super yachts floating in the marina, and the customised Rolls Royce cars lined up outside the port. Soon, we were peckish so made our way to the beautiful terrace at L'Hirondelle Restaurant at Thermes Marins Monte-Carlo. This was one of the most wonderful meals I've had in a very long time! With a seasonal pumpkin gnocchi and lentil salad, it was just what I was craving, and that crisp rose wine under the warm autumnal sunshine – bliss! (Below)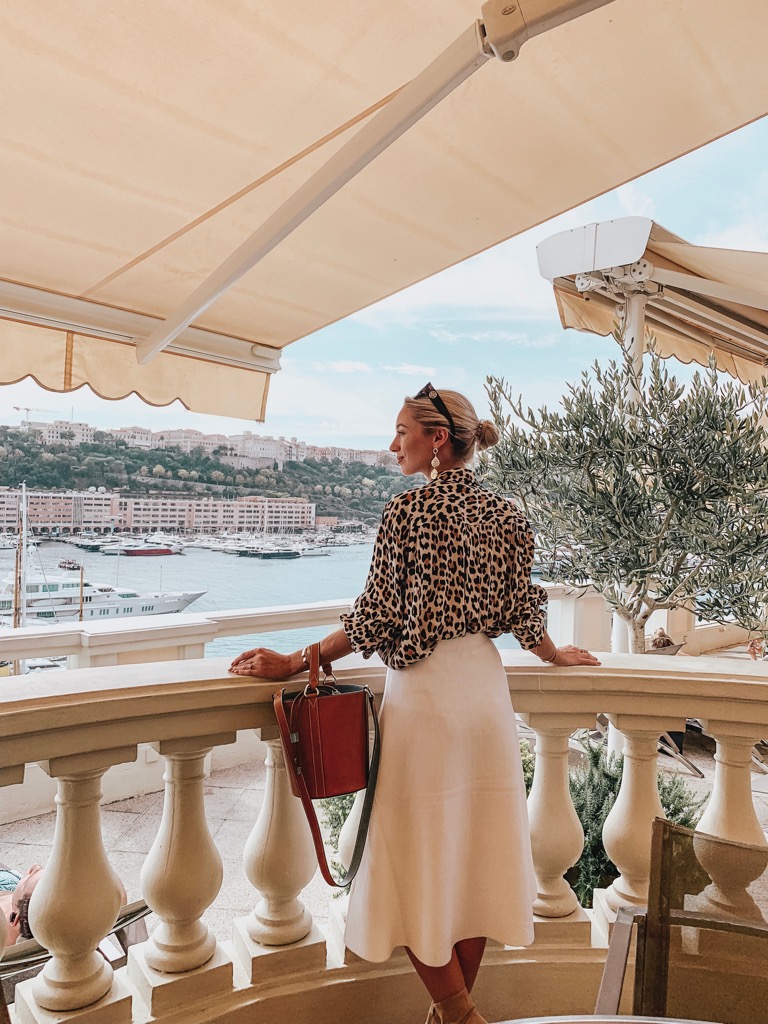 Monaco Dress Code
Monaco is a glamorous destination, with a mild temperature at this time of year. I chose to pair my favourite wool midi skirt with a loose leopard blouse for our day of exploring, and it was the perfect option. With a scarf for warmth as the temperatures dropped a little in the evening, I also accessorised with my bucket back and a pair of comfortable ankle boots – perfect for a day of exploring!
I finished the look with some affordable faux pearl earrings, my usual bracelet stacks and my new FENDI sunglasses.
Blouse by ZARA (similar here)
Skirt by Reiss
Boots by Topshop
Bag by & Other Stories
Glasses by FENDI
Pearl Earrings by ASOS
Bracelets by Monica Vinader + Pandora
Our second evening was just as special; starting with a tour of Monaco Old Town with Heli Limousines; a luxurious chauffeur driven Mercedes Benz picked us up from the hotel, before whisking us up to the historical part of town, where the Palace and most traditional parts of Monaco can be found. We were dropped off to explore for a while, and then driven down to the marina to get a full glimpse of the area. Inside the car was a rose, a mini bottle of champagne and rose petals – such sweet touches!
Dinner was spectacular; we made our way back to the Casino De Monte Carlo for a dining experience at Le Train Bleu – and wow, what a meal it was! It even began on a delicious note with mini spinach parcels and mozzarella dippers, but it was the ginger flavoured leg of lamb that left me speechless! Once again, a restaurant I would highly, highly recommend if you visit Monaco, the service was impeccable too. As you can see below, the setting is within an old fashion style train carriage – it really was a wonderful experience!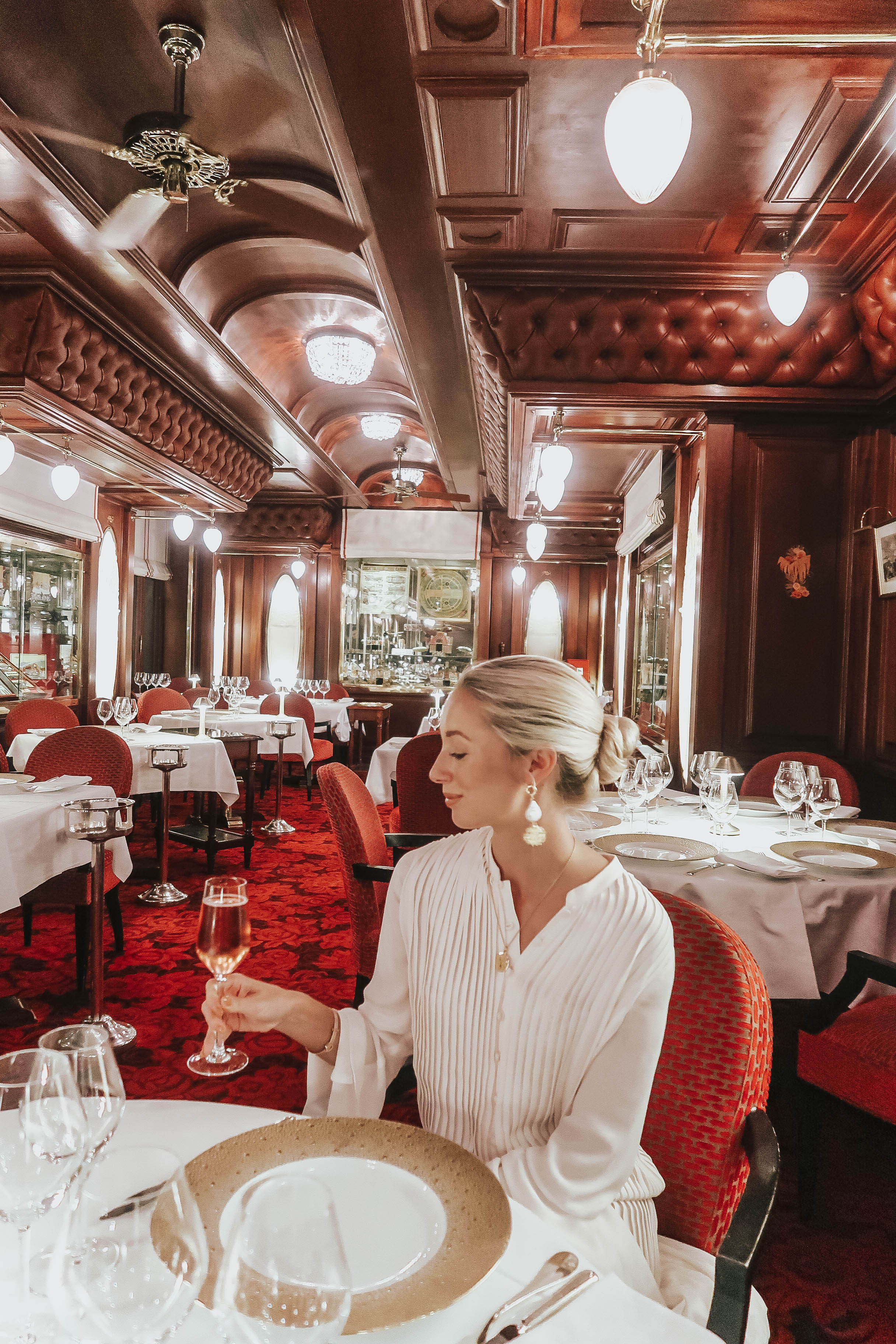 The above right picture was our view from the roof of Hotel de Paris, where we enjoyed our final meal in Monaco, at Le Grill. Wow. Just when we thought it couldn't get any better, we were served the most delicious of dishes at Le Grill. Firstly, the setting – with the spectacular view, the open grill kitchen, and the roof which opens to reveal a starry sky in the evenings, was incredible. The service at the restaurant was unlike anything I've experienced before, knowledgable waiters spoke us through the wonderful menu, and were so attentive they were by your side with a new napkin just seconds after you drop yours (which I did a few times – whoops! – as my leather trousers were rather slippery!!) and they even bought a little stool for us to place my bag and our cameras!
The food, as you can see below, was just an absolute dream. I enjoyed a saffron risotto, a beef fillet with incredible 'soufflé potatoes' and then a pistachio and raspberry soufflé for desert. I don't say this lightly – it was quite possibly the best meal of my life!! Yes!!
We spent our final afternoon in the sunshine on the terrace of the Hermitage, enjoying a cappuccino or two while we caught up on work, before catching our helicopter back to Nice! It was the perfect trip to discover the delights of Monaco, and we can't wait to return soon!