How to wear White in Winter
Wearing white at any time of year is no easy accomplishment; it's the polar opposite of most peoples safety colour (black – duh!) which ironically is the colour that I feel LEAST confident in, but fear not – I've broken down the rules for how to nail this season's chicest colour trend.
Most folk aren't afraid of a white cotton dress in Summer, but in winter – oh no! Thoughts of the abominable snowman spring to mind, alongside fears of spilling mulled wine down your fine white cashmere. How do I make white look seasonal? Should I avoid coloured liquid beverages at all costs? Well darlings, luckily I have a LOT of practise in wearing white, and here are my top tips.
Firstly, an all white look is your fast-track ticket to looking terribly chic in the colder months. So chic in fact, that it's worth sacrificing your tomato soup, and possibly even your morning coffee. (Reader, I wear my dressing gown over my outfit to enjoy my first and second coffee of the morning, may I suggest taking a bib out with you?)
Shop the look; Coat by H&M // Skirt by & Other Stories (similar) // Jumper by Reiss // Bag by Chloé // Boots by Dune (similar)
My Top Three Tips
Tip one is to embrace all the fabulous stones that match so well wit white. You do NOT need to be all in one shade of white; play around with stone, oat, cream, blush, ivory and the many other shades of white. This shade is SO much more fun than black, where black is literally just black; so enjoy it. Subtle tone differences add to your outfit and give it it's own look.
Tip two follows this, as fabrics are another factor you can play with to get your winter white just right. I adore cashmeres, faux furs, shearlings and tulle – keep the look interesting and sophisticated by opting for luxe materials, and stick to a silhouette that you feel comfortable in, such as in the outfit shown in the pictures here; I paired a wool wrap coat with a bohemian style skirt for the ultimate winter #chloegirl kind of look.
Tip three is a fun one; as I suggest that when it comes to your shoes, feel free to go totally off-piste, throw the all white look out of the window, and opt for something statement. Depending on your personal style it could be a pair of chunky biker boots, maybe something animal print, or perhaps that bright pink pair of court shoes that you've been dying to wear. The great thing about an all white look is that it's the perfect canvas for making your accessories stand out.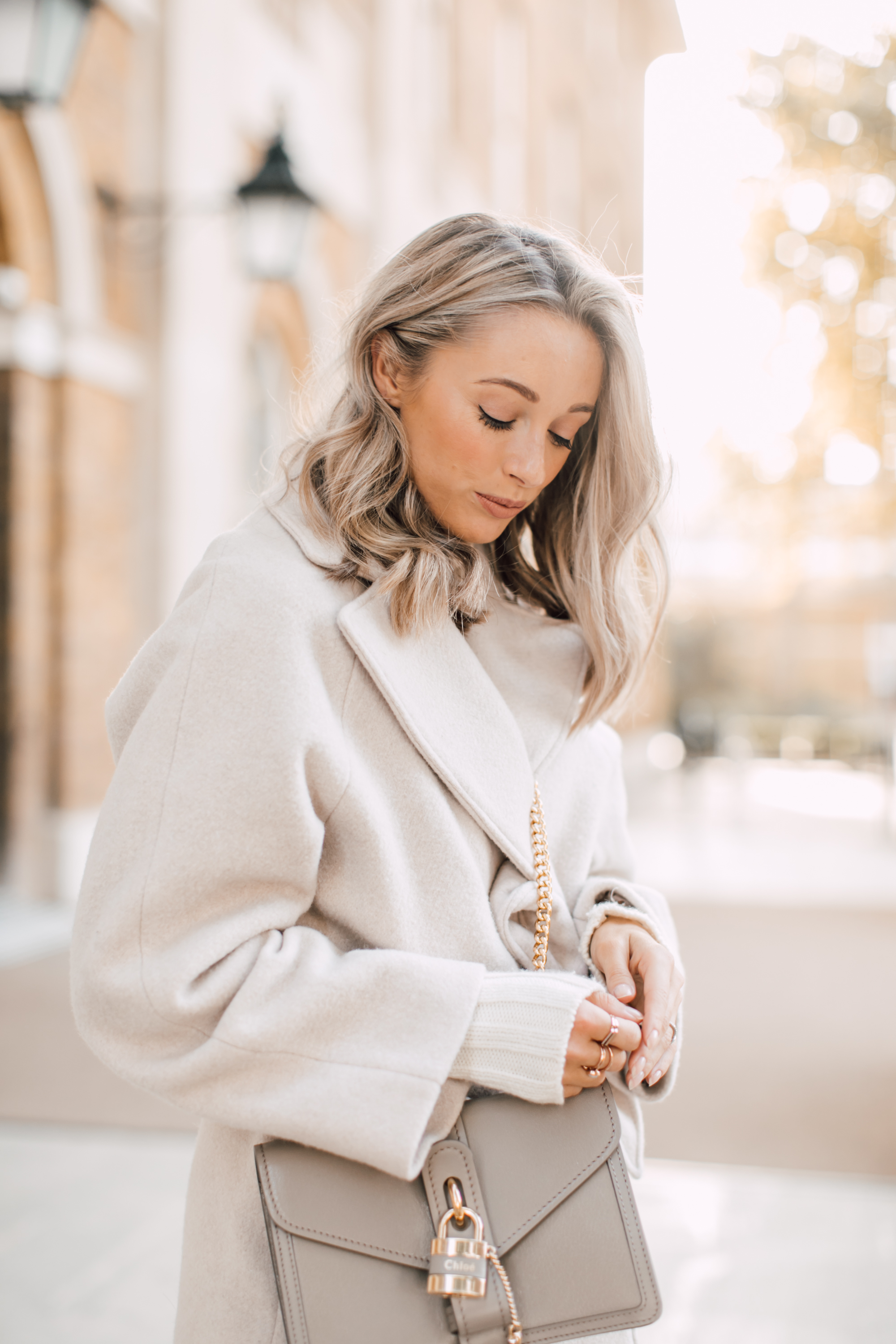 Ad disclosure // Coat was gifted // affiliate links used throughout