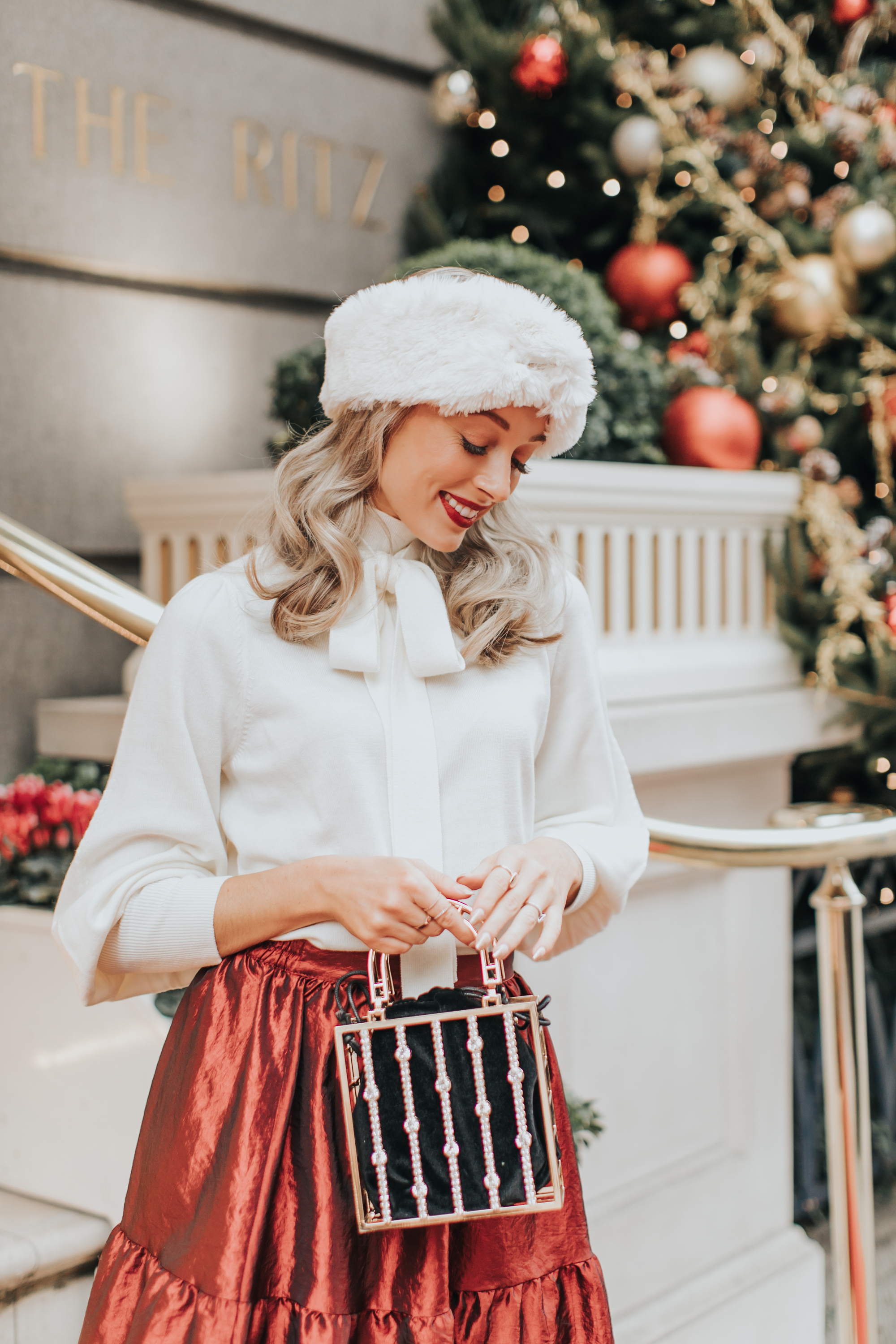 How To Choose The Right Christmas Day Outfit
Ah that all important outfit decision, what to wear on Christmas Day?! Whether it's lunch with the family or a turkey in front of the TV, there are so many different scenarios which could alter what you choose to wear on Christmas Day. Whether you're lounging, lunching, or getting all dolled up, I have a few key requirements for a Christmas Day outfit, which I'll be sharing with you today as well as my very own front runner when it comes to my Christmas Day outfit!
The absolute number one requirement? An elasticated waistband. If there's one day in the year when I will literally eat as much as I physically can, it's December 25th. There'd be nothing worse than a tight waistband to remind me that I may have gone OTT on the pigs in blankets, so a comfortable stretchy waist band is essential. Whether I'm wearing a dress (ideal, especially if it's not tight around the tummy because there's lots of room for indulgence) or a skirt (the stretchier the better) I want my outfit to be flattering and festive, but most importantly, stretchy.
Luxe Materials are something I definitely look for in a Christmas Day outfit; of course it depends on what you're doing for the day, if you're getting dressed up for a family lunch, or heading out for some lovely celebratory drinks, you can't go wrong with sequins (this £65 dress is my absolute fave) or if you want something a little more wearable, opt for festive tones and sumptuous materials like silks and satins, or a metallic effect such as this striking metallic red skirt.
There's nothing fun about being cold, so if you'll be popping over to the grandparents (have they heard of central heating?!) or you know you'll be back and fourth to the garage to get more bottles of bubbles, you'll want to ensure your outfit is going to keep you warm! You all know what a fan I am of thermals, but as our Christmas Day celebrations will be in the toasty warm home of Charlie's parents, I won't have any need for this additional layer this year. My outfit would certainly allow for thermals to be hidden underneath, but with this lovely soft knit jumper and long skirt, I'll be comfortable, cosy and temperate all day long!
For any Christmas Day walks and arriving at Charlie's parents house, I'll layer u with a cosy head band, and this white fluffy number gives me all the Blair Waldorf at Christmas vibes! Opt for fun and festive accessories, but keep the novelty pieces at bay; they're never a good look!
Shoes you can walk in are also essential; when indoors I'll be switching into my favourite Jimmy Choo shoes, but to get from A to B I'll be accessorising with my comfortable white boots. Ensure your outfit is equally chic sans-shoes, we all love to kick our shoes off and relax after a three course festive dinner!
Skirt by Topshop // Knit by Zimmerman // Headband by River Island // Boots by Reiss // Bag by Topshop //
Affiliate links are used throughout this post!