The busiest shopping week of the year is fast approaching…
… and to say it's overwhelming is an UNDERSTATEMENT! Each year, the frenzy that is Black Friday gets bigger and bigger (and earlier!) each year, and it's challenging not to get swept away with temptations and impulse purchases. Each year, I try to make navigating the sales a little easier for you, by creating an edit of genuinely fabulous deals, and all the discount codes you need on the Black Friday hub on my blog, so you can go about your shopping in a more calm and organised manner, but I also wanted to share a few words of advice before the frenzy begins, so here are my top shopping mistakes to avoid this Cyber Week.
Firstly, avoid impulse purchases! I was trying to rack my brain for a time when an impulse purchase turned out to be a good long term purchase decision, and I can't think of one single example. It tends to be the more thought out and curated purchases that are the best value for money, but it's hard to ignore the shouting when all the retailers are beckoning you with '50% off everything' or 30% off this designer bag or pair of shoes! It's one thing added a great deal to your basket, but before you click on the Checkout button, can you think of 3 reasons why you don't need it? If so, back away girl. You don't need it. Will it be in fashion next year? Will it work with lots of other outfits in your wardrobe? Do you have something similar? Would you buy it if it had been this price originally, or are you only drawn to the % discount?
Leading on from this, another mistake to avoid is overspending. You've got to keep in mind that this is the last pay day pretty much until the end of the year for most of us, and do you really want to be purse pinching throughout December? I thought not! Before Black Friday, this weekend, take time to calculate what you need to spend throughout December, (bills etc) leave yourself some 'spendies' and whatever is left is yours to treat yourself on Black Friday. Trust me darlings, no pair of half price Jimmy Choos is worth bankrupting yourself for.
Trust me darlings, no pair of half price Jimmy Choos is worth bankrupting yourself for.
Shop my Look
Coat by Stand Studio // Leggings by Karen Millen // Boots by ECCO // Sunglasses by TOPSHOP // Bag by YSL // Knit by NET-A-PORTER // Ring by Edge of Ember //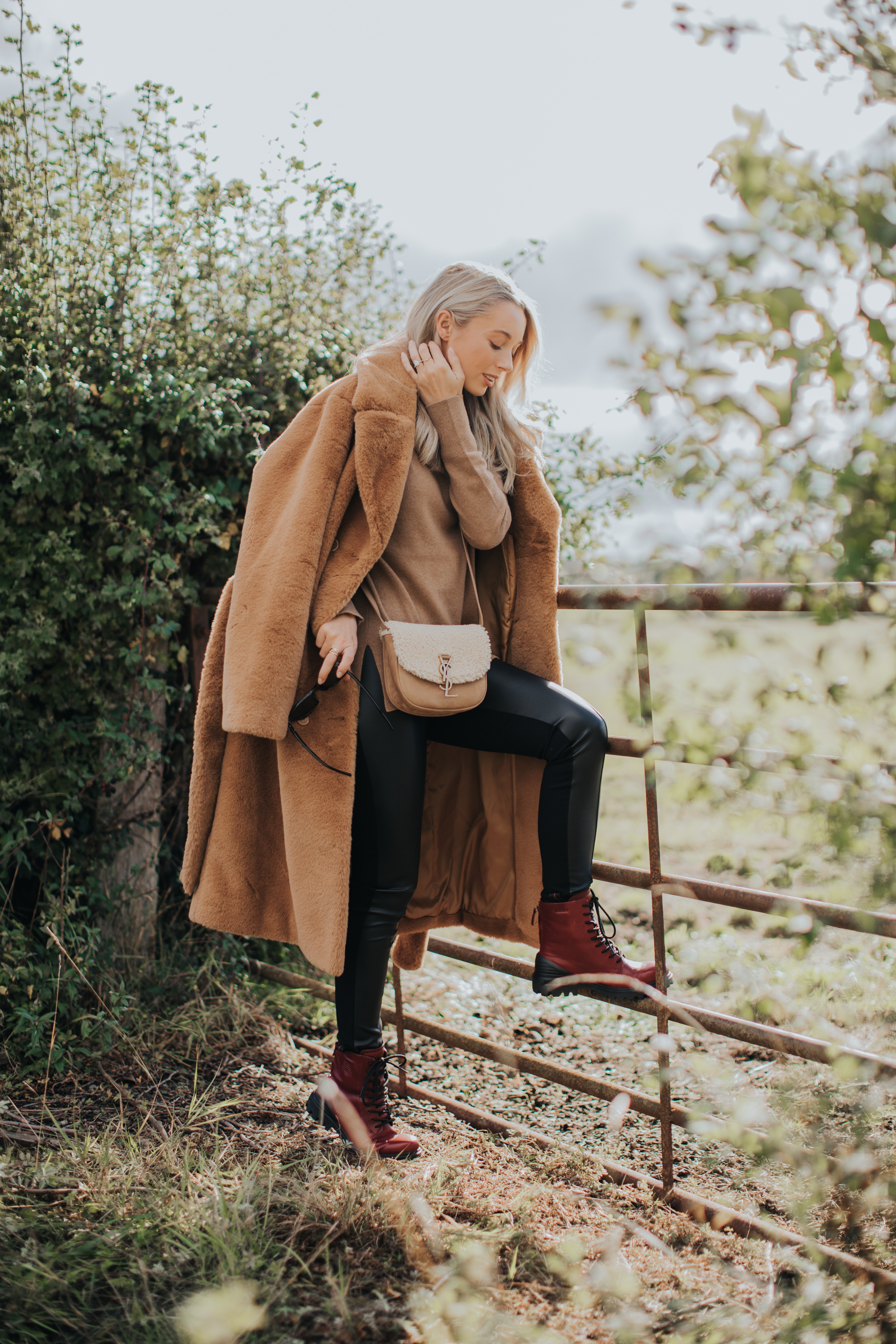 Once you know your budget, you want to make sure you get the very best deals, without leaving it too late when all the sizes are sold out, so a mistake to avoid, is missing out on the best discount codes. Many retailers will share a 'friends and family' discount code via email to their most loyal customers, a day before the sale hits the 'masses' and that my darlings is the best time to shop. Fear not, you don't have to go ahead and sign your email up to every newsletter on the block; just one. Yep, you guessed it, my Black Friday Daily Edit will be hitting your inboxes at 8am every morning with ALL the sales and discount codes you need; sign up here.
Government guidelines permitting (and of course this is not relevant to us in the UK as we will be in Lockdown throughout Cyber Week) – If you're more of an in store person, a mistake to avoid would be arriving too late. My top tip when shopping in general, is to get to the stores as early as you can, and never is this more true than during the sale period. At the beginning of the day, staff are alert, everything is out and beautifully displayed, in size order and in the right place, and generally the crowds are less. Just think; you've got your heart set on the perfect wool coat in size 8, but hours earlier someone else picked it up, only to decide they didn't want it, and they dumped it at the other side of the store – how would you ever know it's there?! Impossible! So get there early to avoid queues, and avoid disappointment!
Another thing you don't want to buy, is a one hit wonder. This is especially important when it comes to designer purchases. Yes, that neon pink Prada with the 50% off swing tag might look darn right tempting, but hey, are you going to love it next year?! When we see big name designers at knock off prices, it's often too good to be true, and we are tempted by things that are trendy now, but will be 'so last season' before the Christmas tree needles start to drop. Instead, opt for classic, neutral, stylish designer pieces which will stand the test of time. Retailers like Selfridges and NET-A-PORTER will be offering discount edits (don't worry, I'll let you know as soon as they go live) so that you can pick up the classic styles at up to 30% off.
As well as designer one hit wonders, you want to avoid falling into the trap of super cheap, poor quality clothing. We all know the culprits; those online retailers known more for their £1 bikinis than their classic stylish pieces, they will be splashing 50% off sooner than you can say Cyber Weekend. These already super cheap pieces will be on sale for less than your morning coffee (in your reusable cup I hope!) but think about firstly, the environmental impact, and secondly, the quality of the clothing you're buying. Forgive me for sounding like a stuck record, but darling, put the card AWAY unless its something you'll wear year after year, and it's made from something that's not 99% plastic.
Darlings my final tip, and the last mistake that you can so easily avoid, is being unprepared. The sales will be happening SOON, like, tomorrow, so head to your fave retailers, fill up your shopping baskets, so there's no mad panic once the discount codes go live. Don't dilly dally on the mornings of the sales, this could just lead to a bad impulse purchase, instead, browse pressure free now, and have a 'hit list' in mind of the key things you want to pick up. If you're planning to hit the shops IRL, prepare yourself by knowing which stores to visit first, where to park, and who to bring with you. If they're a slow walker, ditch em. Black Friday isn't a day for dawdling, we mean business.
I hope you've enjoyed my shopping mistakes to AVOID, let me know if you can think of any more down in the comments below!
xoxo
{ affiliate links used }