The Riverside Hot Spot Just Outside London…
Hi darlings, thanks for stopping by for a very improptu blog post – after I received countless questions about Summer River House after I shared a few stories from there over on my Instagram this weekend I thought I'd summarise here on the blog. We drove down toward Windsor to visit Charlie's family on Friday, and decided to try our luck by stopping by Summer River House – and ended up spending the entire evening there for dinner and cocktails – let me tell you more!
So, let's start from the very top – what's Summer River House and why the buzz?
In short, Summer River House is the newest venture from the Soho House Group. Soho House is a members club originating in, you guessed it, Soho London, but they've now expanded globally with Houses in the beautiful Cotswolds (Soho Farmhouse – my local!) to Mumbai, Miami, Barcelona, Istanbul and so many more. Originally to get membership you'd need to work in a creative industry, and be recommended by two other members – so yes it's fairly exclusive and as it stands, membership applications are currently frozen, with a waiting list of over a year to join (mostly down to COVID). Members come to expect a certain level of quality and 'homeliness' from the Houses, whether it's the same coffee and juice menu no matter where you are in the world, the same crockery, the same WiFi password (woohoo!) and the same level of service. It really is like a bouji home from home, a great place to have casual work meetings, a date night, or even just head there by yourself to relax and enjoy a great atmosphere. I could write an entire blog post on Soho House as a whole, but let's revert back to Summer River House.
Where is it?
Summer River House has popped up on the riverside at the Oakley Court Hotel near Windsor. Separated from the main hotel grounds, Soho House have created a lovely area that you reach by strolling through a walled vegetable garden. It's accessible too – only a couple of steps which would be easily traversable by wheelchair users for example. There's plenty of parking, or it would probably be a 10-15 minute cab journey from Windsor & Eton train station. It would be about an hour drive from West London.
Side Note – I apologise for the low photo quality – I snapped these on my phone very quickly – as I was unsure if the usual Soho House rule of 'No Photos' applied here. It certainly felt more relaxed and everyone seemed to be snapping on their phones, but to protect the privacy of it's members, generally there's a No Photos rule across the Soho Houses, and especially no photos of other members.
So How Can I Attend?
As per all Soho Houses, you'll have to be visiting with a member. If you yourself are not a member, your friend who IS a member will need to arrive before you, and let the membership team (who are based in a little hut as you enter Summer River House) know the names of their guests. Each member is allowed to bring 3 guests. As of yesterday, the first of May, the member needs to book a slot on the Soho House App in order to gain entry. So for example if a group of 8 of you want to attend, at least 2 of you need to be members, and each member needs to add 3 guests to their booking on the app. There's no 'punishment' if you don't show up to your slot and no payment required to book, but given that the slots are limited, it's just a tad selfish if you don't 'release' your slot if you decide you aren't going to attend any more – so make sure you update your bookings!
And what's it like? What's the vibe?
We attended on both Friday night, for dinner and cocktails, and Saturday morning for coffee – over the bank holiday weekend. Both times it was fairly chilled, plenty of seating and tables available, and we were able to get 'prime positions' on the decking on the riverside with no problem. I predict as word spreads and the temperatures warm up, it will get super busy – especially as Londoners seek outside beautiful places to spend the day during the Summer. It wasn't quite as buzzy as a normal Soho House, due to the fairly low numbers of people there when we visited, but still the staff were great, incredibly friendly, nice music and overall great vibes. The location really is stunning with the vistas over the river, and they've done a great job making it look very 'Soho House Aesthetic' – with the umbrellas, mix of antique and modern furniture, leather bound books, lamps and flora and foliage.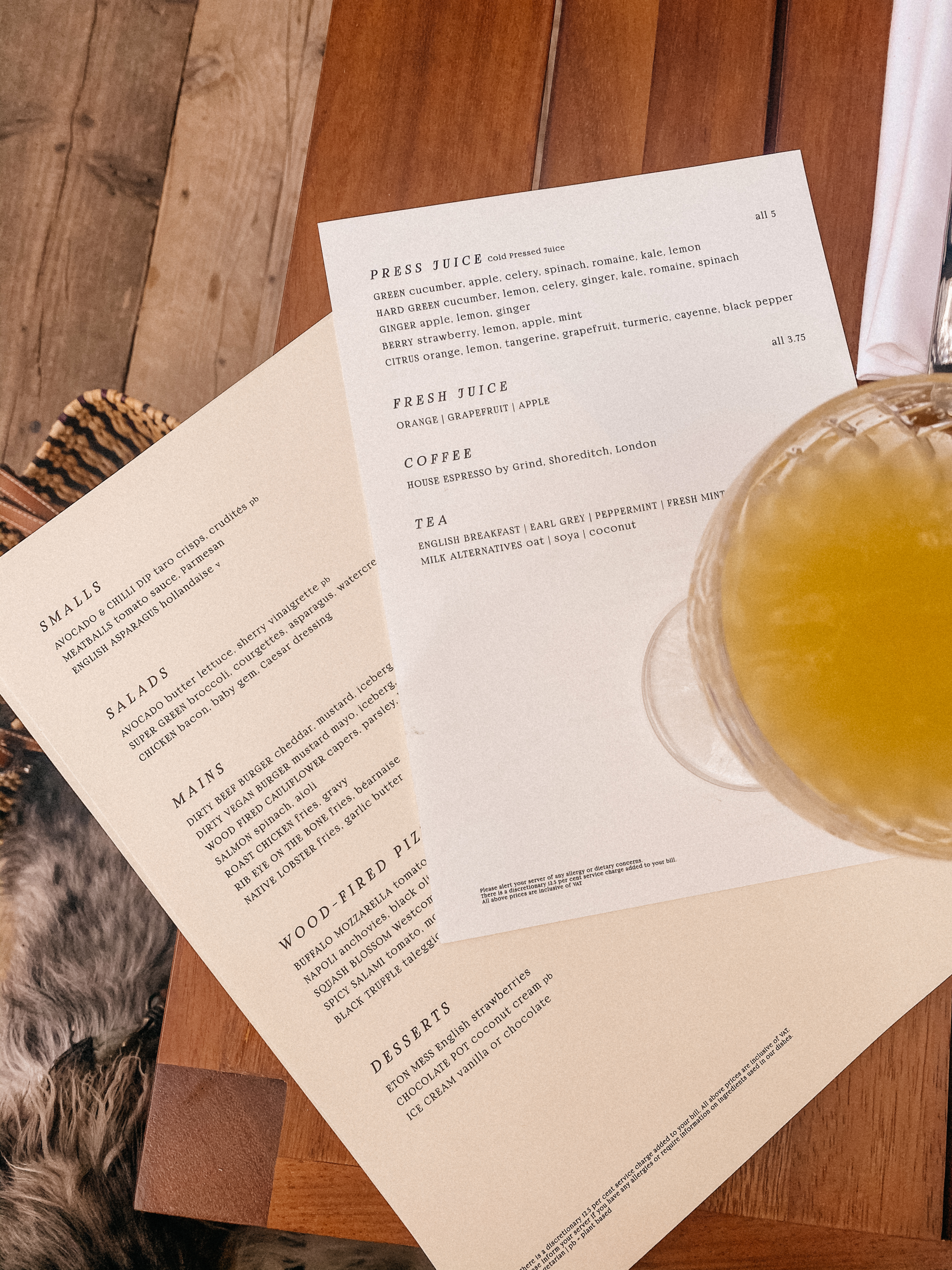 What Can I Do There?
At Summer River House, there's loads of seating – from riverside decking areas for dining and drinking, sun loungers, outside tables, and a fabulous tent (tent seems like such a disservice to the incredible structure that it is – I'm sure there's a better name!) with a bar and plenty of 'indoor / outdoor' sofas and armchairs for relaxing. Really clever of Soho to do this really, as it's all COVID friendly with plenty of fresh air and open air dining space.
You could bring your laptop to work here, sure, but I feel like Summer River House is more of a weekend chill kind of place. There were quite a few children here when we visited on the Saturday morning, definitely more family friendly than the Houses in Central London. You could spend an entire afternoon watching the 'traffic' on the river, from luxurious James Bond-esque sleek wooden speed boats, to university students racing on their rowing boats, to retired couples chugging down the river in their canal boats – oh and not to mention the adorable ducklings tootling around the reeds following their observant mother duck!
It's not the kind of place where you can go for a dip in the river although I'm sure someone will try it after a few too many cocktails, but I heard talk of a 'natural lake' just through the woodland which apparently is a great place for a dip!
Dogs are allowed of course as it's all outside.
Let's talk about food and drink.
At the moment, there's a small but perfectly acceptable menu. Let's remember this is initially a Pop Up (although most of the staff said they thought it would be here for the long haul) so kitchen facilities are probably fairly limited. There was one page of food offerings (photographed above) including salads, Pizzas, nibbles and some tasty desserts too. The cocktail menu included the all important Eastern Standard (my favourite) and the Picante, and there's the coffee and juices that you expect from any Soho House. As far as I'm aware, there's just this one menu, from 11am to midnight. No brunch menu, so we just had some Avocado and Crudites as a snack with our coffee on the Saturday morning.
Service was excellent. With a mixture of staff bought in from the London houses (who were thrilled to be staying at the Oakley Court Hotel over the bank holiday weekend!) and Oakley Court Hotel staff, they were friendly and chatty as you'd expect from Soho staff members. Naturally Charlie (my Fiancé) made best friends with almost everyone, and they told us that the previous weekend had been crazy busy and hectic, with over 1000 guests turning up over the weekend and staff struggling to handle the popularity, where as this problem was quickly fixed and there were plenty of staff on hand this time, with excellent and very quick service.
I think it's a really clever move from Soho House to 'borrow' this space from Oakley Court Hotel. The hotel still has a huge riverfront area, and the staff said that this part of the garden was previously fairly unused, with an old marquee on the grounds and not much else. Soho have built everything from the new beautiful marquee, to the decking areas over the river in just a few months – it really is impressive. It looks like they have even jazzed up the kitchen garden area in front of the greenhouse too – giving it a beautiful atmosphere and it's certainly too good to only be here over the Summer months.
I imagine they will increase their offering here, possibly bringing in more food vans; there were a couple of the air streams that you may have seen at Soho Farmhouse on the land, as well as a Tipi with another dining space in it; fire pits dotted around and Pizza ovens churning out delicious food.
So would I recommend a visit?
If you're local, and are a member or know one – yes! For sure – it really is a beautiful spot and a wonderful new addition to the Soho House collection of properties. I know the London properties are hard to get a booking at currently – given the rules of only outdoor dining allowed, and there's plenty of space here at Summer River House. If you're coming from London, then make sure you've got your booking sorted as it's quite a journey to be told you're not allowed in. Make a day of it; go for a walk in Windsor Great Park – you can stroll around Guards Polo Club, walk from Windsor Castle to the Copper Horse for a very scenic walk, or spend an afternoon wondering around Windsor; it's a really beautiful part of the world.
If you've got any more questions about Summer River House, then feel free to drop me a message on Instagram!
Thanks for reading darlings xoxo