Packing for Multiple Climates
If my Vlog has already left you eager to visit Costa Rica then this post is for you! I always find it tricky to prepare for trips to warmer climates when it is Winter here in Britain, it's unimaginable that you'll actually end up sweltering in that flimsy blouse that makes you shiver to think about wearing it outdoors in the blustering winds of the UK.
For my trip to Costa Rica as a Piz Buin Sun Ambassador, we visited in January of this year, right in the middle of the country's dry season, however as we were travelling across various parts of the country, the climate was hugely varied; from misty jungles volcanic lands, to dry, scorching beaches.
If you'd like to see more about the individual regions that we visited then be sure to keep an eye on the blog over the next few weeks as I'll be sharing hotel reviews, fashion features and my favourite places that are off the beaten tourist track.
Because of the varying climates and plentiful activities that are available to you in Costa Rica, you need to be pretty prepared when it comes to your packing! Here is a list of the pieces that I took with me, as well as those things that I'd definitely take with me next time!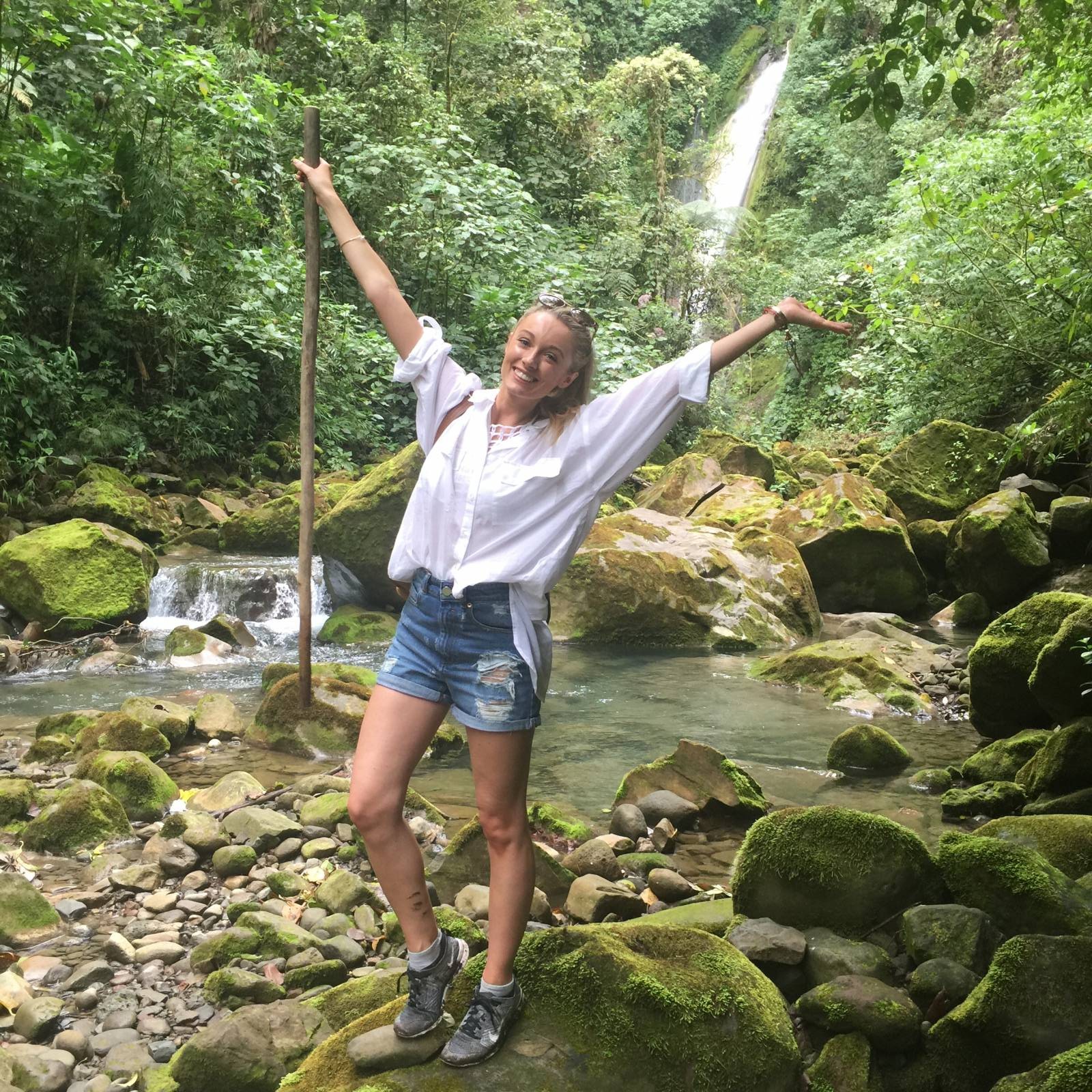 For Jungle Hikes
While staying at the Hotel Silencio, we took a long and challenging hike through volcanic terrain to reach a beautiful waterfall. Climbing over boulders, down steep slopes, over trees and through rivers mean you need to be prepared!
A pair of hiking boots or sturdy trainers
A comfortable rucksack
A pair of athletic leggings
A tank top
A t shirt
A sports bra
A few pairs of socks
A water bottle
A packable rain jacket
Some Insect Repellant
Some Suncream Lotion
What I Took
Just because you're being practical doesn't mean you can't be fashionable too, and I think my rucksack and all it's contents worked perfectly at combining looking good and still ensuring that I was prepared!
I picked up this leather-look rucksack for just £35 from Accessorize, I knew that I wouldn't mind if it got a little roughed up, in fact, it just added to the look! It's spacious inside with a secure zip pocket which I kept my valuables in, and when empty it's incredibly light.
While I didn't wear these beautiful metallic sandals on the jungle trek, they were great for exploring the grounds of the hotel. While I did pack trekking boots, I chose to wear my Nike Flyknit trainers for our trek and they did the job perfectly well. My Ran Ban sunglasses were a staple too, and although my Daisy Dixon Rose Gold Watch isn't waterproof it was still pretty and practical for our explorations.
Although the sun wasn't beaming throughout the trek (we encountered mist and even a little rain!), I ensured I was protected against the rays with my Piz Buin 1 Day Long SPF 15.
For The Beach
For me the most beautiful part of the country was the incredible beaches that we visited for filming. From the slightly more busy beach just south of Tamarindo (get here early to avoid the crowds) to the deserted beach of Playa de Juanillo which is only accessible by a remote dirt track. For a full bikini and beach outfit lookbook, head over to my YouTube channel and check out this video!
Beach Bag (I used my rucksack)
Towel
Bikini (at least one per day!)
Beach Cover Up (more than one)
Flip Flops
Sandals
Sun Cream
Cheap Jewellery
Sunglasses
Protective case for phone/camera
Hat
As a beauty blogger, you can expect to see a full beach beauty post from me soon, but primarily the most important things to remember are a foundation or tinted moisturiser with some SPF protection (as well as your facial SPF like this one), a very waterproof mascara (I swear by Clarins Truly Waterproof) a lip balm, and UV protector for your hair such as Mark Hill's protective UV Shield.
Everything Else
As well as the pieces mentioned above, there are a few essentials that I'll definitely be packing on my next trip to Costa Rica, or similarly exotic places! Don't leave home without:
A portable phone charger – there's no electricity on the beach!
Spare batteries for your camera
Spare Memory Cards for your camera
A waterproof (and sand proof) phone case
Vanish Soap
Long trousers for the evenings
A white beach shirt
Piz Buin Aftersun
Avon Skin So Smooth moisturiser (it has insect repellent in it)
Portable Wifi (if you're as addicted to Instagram as I am!)
Cheap sunglasses (for in the sea)
I made the mistake of taking smarter clothing with me too, but even in high end luxury hotels, it's far more appropriate to wear a chic pair of shorts and a silk blouse than a dressy outfit. Leave your heels at home as well, in favour of delicate sandals (and wedges if you absolutely need that little height boost!). A deep conditioner is also a must if you suffer from tangly tresses, as even the most luxurious of hotels didn't offer the greatest selection of shampoo and conditioner, so for me my Kerastase Conditioning Mask was a saviour!
Hopefully this helps if you're planning a visit to beautiful Costa Rica soon, and if so, have a fabulous time! Keep an eye out for more Costa Rica related posts here on Fashion Mumblr very very soon.
xoxo