Ah, the jumpsuit.
A piece that for years I avoided, confused as to what it was, and what to do with it. However this one fashion piece has the potential to totally transform a day to day outfit into a stylish evening look. It's an instant outfit, one that only requires a few accessories to complete the look. They are in fact quite simple and yet an incredibly bold look but they key is to experiment with different styles to find the jumpsuit shape that works best for you. Do you suite a wide, billowy leg? Or something sleek and slim? Long sleeve or strapless? No matter your style preferences, chances are theres a jumpsuit style to suit you.
For an evening look, opt for something that shows off a little more skin. A summer favourite for me is this sleek white option from Topshop. The wide leg and structured material give it a chic and polished look, while the shoulder and décolleté area are open giving it a fun and flirty finish.
For work meetings, opt for a jumpsuit that resembles a power suit with a collar detail and perhaps a deeper shade such as navy, or for a daytime Summer look, choose something made from softer material with a lovely drape, and feminine details such as frills and ruffles.
For this white jumpsuit, I styled simply with a pair of striking toe cap block sandals, which add a luxe designer look to the outfit, and a classic grey cross body bag (currently £12 in the sale!), also with a high end feel to it. I kept my jewellery simple with a pendant necklace and my usual rose gold bracelets.
Equally for special occasions, you can play around with luxe materials for your jumpsuit, I particularly adore this soft blush pink satin jumpsuit (in the sale at £30!) and also any jumpsuit with lace detail look elegant and stylish for Summer events such as weddings, christenings and parties!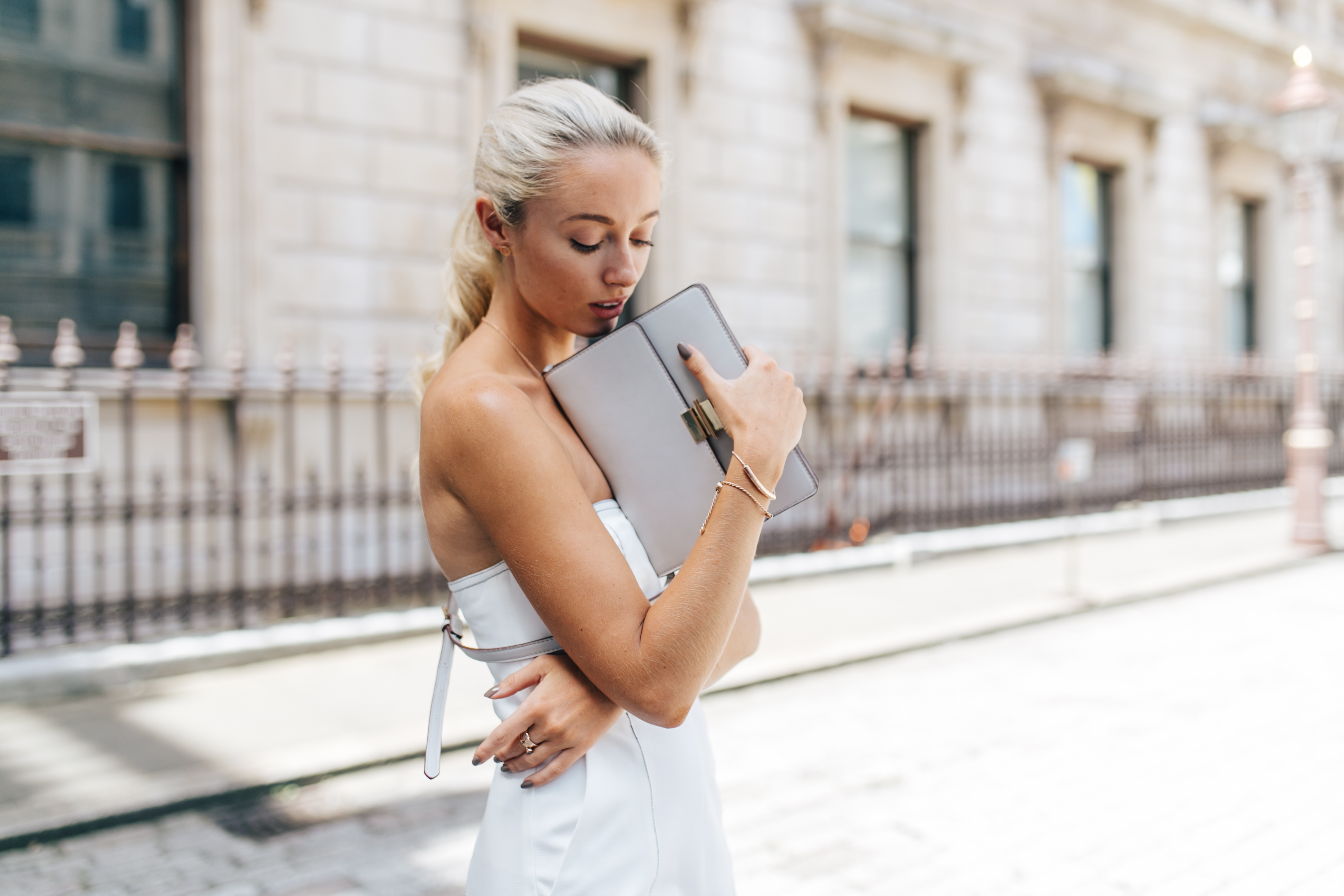 How do you like to style your jumpsuits?

Jumpsuit by Topshop
Sandals by Topshop
Bag by Topshop
Jewellery by Monica Vinader