I fell in love with Vienna… Mi Sono Innamorate di Vienna
I have Andrea Bocelli to thank for my new love for Vienna. Back in December, we were weighing up different ways of seeing the Italian opera singer in concert, and his tour dates in Vienna allowed us the perfect opportunity to visit the Austrian capital. When we surprised Mum with tickets to see him, and a weekend break in Vienna for Christmas, we certainly didn't expect to end up loving the city quite as much as we did.
We decided to stay just two nights in Vienna, but chose flight times that allowed us to make the most of the days either side of our stay, and it felt like we were there for far longer! Arriving on the Friday morning, it was a little bit grey and drizzly, but after checking into our very modern rooms at Motel One, we were perfectly located to start exploring. The hotel was situated just two minutes walk from the Opera building, which just happened to be the starting point for the Vienna hop on, hop off tour bus! Far from turning our noses up at such a touristy thing to do, we decided it would be the most effective way of getting our bearings for the city, so we hopped aboard and plugged in our earphones as we made our way around the various palaces, places of importance and hotspots that the city has to offer.
After our bus tour, we decided we should shelter from the rain in one of the beautiful coffee spots recommended by one of my fabulous Twitter followers, at the Cafe Imperial within the hotel Imperial. The architecture within the hotel was simply spectacular, with grand chandeliers and sumptuous seating areas providing the must luxurious setting for an afternoon tea or coffee stop.
Hungry from an afternoon of exploring, we did some quick research on Instagram to see where looked good for dinner, and a short taxi journey across town later we found ourselves at The Bank Brasserie within the Park Hyatt. Again we were blown away by the spectacular building, just look at the incredible structure in this room! The room was illuminated by four giant lamps crafted from floral shaped crystals which I couldn't help but admire, and the our table was a cosy booth tucked inside one of the marble alcoves – perfect for a romantic dinner!
The menu was full of delights such as Fois Gras Creme Brûlée, seafood platters and delicious steaks – and Charlie opted for the traditional dish of Weinershnitsel!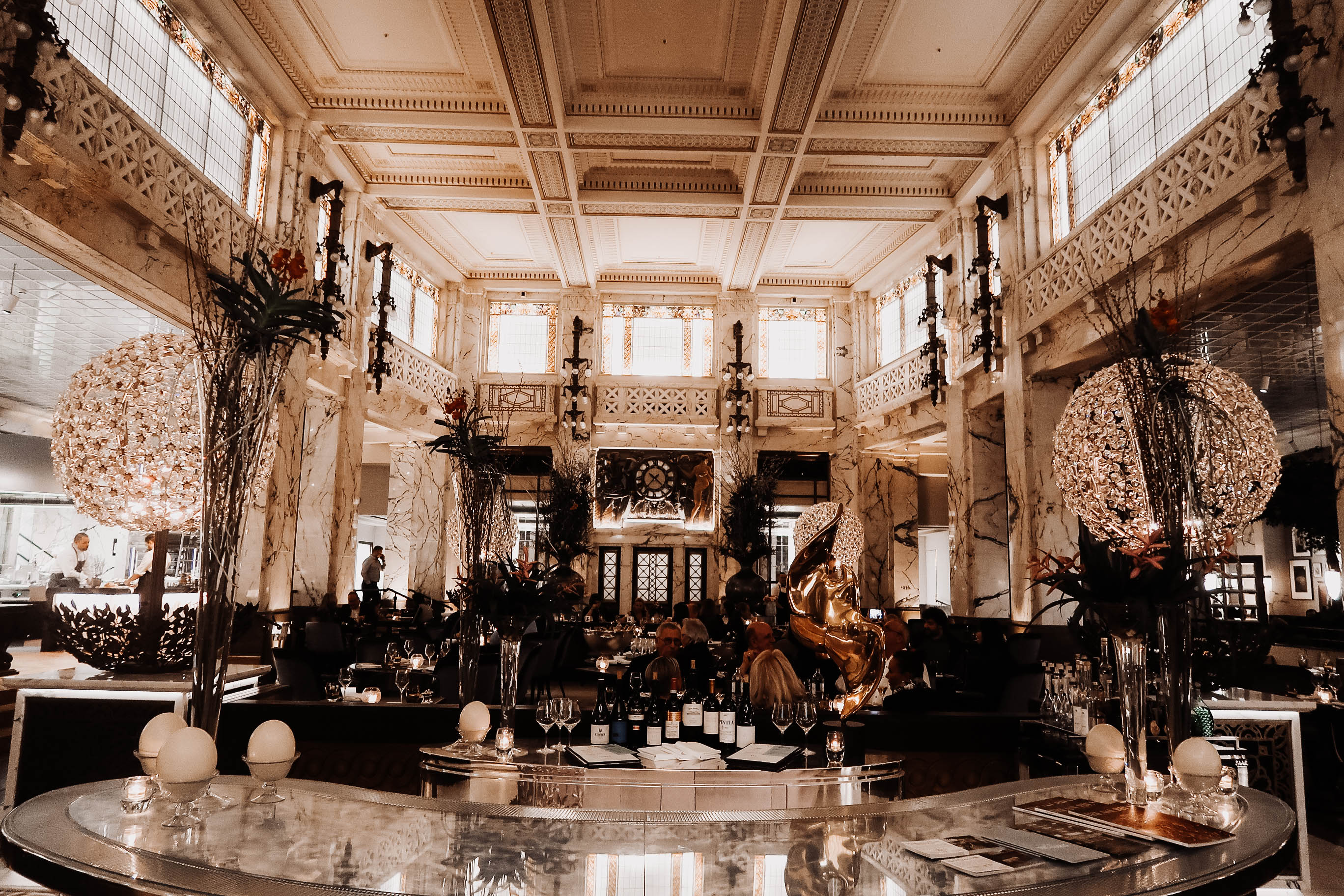 The following morning we left our hotel early for a day of exploring, we walked across the city by foot taking in the beautiful museums and palatial buildings before the crowds. It was worth it for the incredible vistas, despite the chilly temperatures!
Knitwear by Club Monaco // Coat by Reiss // Scarf by Topshop // Skirt by Topshop // Shoes by Topshop // Bag by Reiss // Sunglasses by Fendi via Amazon //
On our stroll we discovered a fabulous breakfast spot; Joseph Brot. The millennial pink interiors were a great start, but it was the healthy and delicious sounding dishes on the menu that truly won us over. I opted for the Avocado Toast, while Charlie had a colourful Salmon, Rye Bread, Avocado and Chi dish – washed down with 'Detox' juices and a Charcoal Vanilla Latte – it was a spot I'd most definitely return to!
This spectacular building is the Shonbrunn palace – in fact I'll be doing an entire blog post about our afternoon here as I have so many spectacular shots from here! One of the highlights also had to be the white chocolate and poppy-seed pretzel!
That evening was the Andrea Bocelli concert which as you can imagine was simply spectacular, we found a restaurant called Cafe Ulrich nearby which was a brilliant find, we enjoyed scrumptious dishes such as Goats Cheese Gnocchi and Zucchini Fettuccini – you'll have to head over to Charlie's blog for all our Vienna food recommendations!
We checked out of our hotel before heading out to explore Vienna even more for our final day; the design hotel was the perfect base for our stay; light and spacious rooms, and a fabulous lobby area that made for a great base to enjoy a coffee while we planned our final day. Above you can see our room, I thought the decoration and space was fabulous, especially given the affordable price to stay, and our room also included breakfast which consisted of a buffet area where you could help yourself to a continental breakfast selection. If you're looking for a wonderfully located, practical and affordable place to stay that also looks beautiful (very important!) then I'd definitely recommend looking at Motel One Wien – Staatsoper for your trip to Vienna.
We worked up an appetite exploring the beautiful streets once again, and visited Erich cafe for another astounding breakfast. Once again I opted for Avo on toast, this time it was presented with quinoa and halloumi , while Charlie's breakfast was nothing short of a feast with boiled eggs, salmon, salad, acai bowls and more filling his plate!
We'd booked tickets to see the Spanish Riding School at 11am, so dashed straight there after brunch, and took our seats for the 75 minute long performance. The Riding School is an establishment over 450 years old, and demonstrates the renaissance tradition of Haute Ecole.
We paid a visit to the Cafe Central (according to Twitter and the blogs that we had read, it was not to be missed!) and while the service was quite shocking, the cakes, the decor and the drinks were rather fabulous, so we still enjoyed our visit! Filled up on sweet treats, we left to explore the nearby streets, and stumbled upon a wonderful Easter Market:
Hundreds of intricately hand painted eggs were on display in the 'Ostereierstand' – where locals would come and choose their eggs to either decorate their own homes with, or present as gifts on Easter Day. There were so many designs ranging from intricate lace classic eggs, to more fun floral patterns and even a selection of eggs with dogs painted on! It took lots of restraint not to pick up the Sausage Dog egg!
After posing for a few more outfit shots (Vienna is literally the instagrammers dream!) we stepped into Vanini to sample their legendary chocolate before enjoying another stroll through the city before boarding our short flight home!
Vienna is a city that I absolutely fell in love with, is it somewhere on your bucket list?
Photos are all edited using the Fashion Mumblr Presets!
xoxo