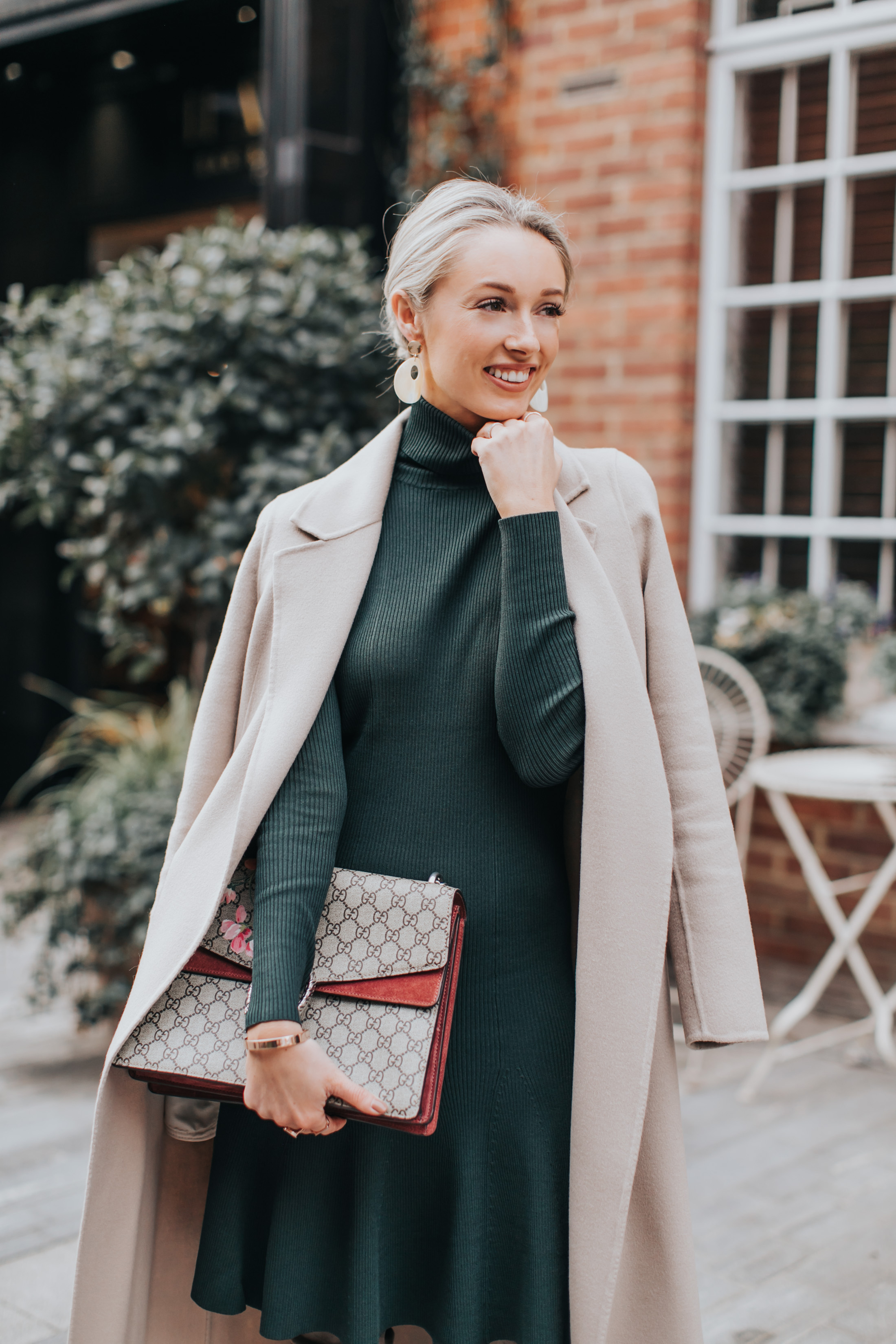 Is this the perfect Winter dress?
Dress by Reiss // Coat by Reiss// Boots by Reiss // Bag by Gucci // Earrings by Topshop // Bracelet by Monica Vinader //
If your style is anything like mine, chances are you'll probably already know just how versatile a winter dress can be for your wardrobe. Those mornings when you haven't had enough coffee to figure out which top to pair with your work trousers, or when you need to throw something on in a rush, but still look chic; the answer is always a dress!
A dress is your entire outfit, in just one piece. The right dress is flattering, comfortable, and easy to style, it's foolproof, and I think I've found the perfect dress for Winter. This deep moss green roll neck, long sleeve, fluted skirt dress from Reiss is everything I've been looking for. Thanks to the stretch fabric it's super warm, the roll neck gives it a sophisticated and smart look that's perfect for the office, while the fluted skirt and flirty length make it fun and feminine, and totally my style. The colour is one of the most on trend tones for 2019, and it's a style that looks oh so chic with your hair pinned back in a low bun, statement earrings, and a pair of over the knee boots to complete the look.
Thanks to the slim fitting silhouette, you can wear your favourite coat no matter the shape. During the warmer months this will look great with a cropped jacket or even a suede or leather biker jacket, while at the moment I'm loving pairing it with my giant teddy coats, or a more refined tie-waist camel coat like this one here for a fabulous, chic and timeless look.
As you may know, I judge my purchases based on price per wear, and from the amount of work days I've already worn this dress, it's already a winner. I always trust the quality and craftsmanship of my pieces from Reiss too, so I'm confident this will be a key piece in my wardrobe for years to come.
What do you think of this winter dress? Can you imagine this working in your wardrobe? Would you wear this to work?
xoxox